Reproductive Accreditation Program
Designed for the unique needs of reproductive laboratories in collaboration with the American Society for Reproductive Medicine, the CAP's program promotes the quality and safety of laboratory services to give your physicians and patients confidence in the services it provides. Our program is recognized by the Society for Assisted Reproductive Technologies (SART) to meet membership requirements for in vitro fertilization facilities.
Annual updates of the Reproductive Laboratory Medicine checklist incorporate the latest best practices and advances in technology based on input from experts in the field.
Program Benefits
The Reproductive Accreditation Program:
Focuses on areas to make laboratory processes more fail-safe and reduce risk of errors in patient identification, specimen labeling, handling of embryos and gametes and cryo storage conditions to protect your patients
Includes the full spectrum of services that may be offered by a reproductive laboratory including embryology, andrology, endocrinology, cryopreservation, reproductive cell/tissue storage and preimplantation genetic screening/diagnosis
Utilizes peer inspections from practicing embryologists to facilitate exchange of ideas and best practices to improve performance
Includes requirements to evaluate the ongoing competency of all testing personnel and embryologists
Gives your laboratory confidence in its preparation for FDA inspections for services involving the collection, processing, storage, or transplantation of donor tissues and cells
Program Details
Eligibility Requirements
Laboratories that perform at least one embryology-related procedure or perform semen analysis and at least one additional high complexity test are eligible for this program.
The Accreditation Cycle
The graphic below captures the accreditation and inspection cycle for CAP-accredited reproductive programs. Inspections for the Reproductive Laboratory accreditation program are announced.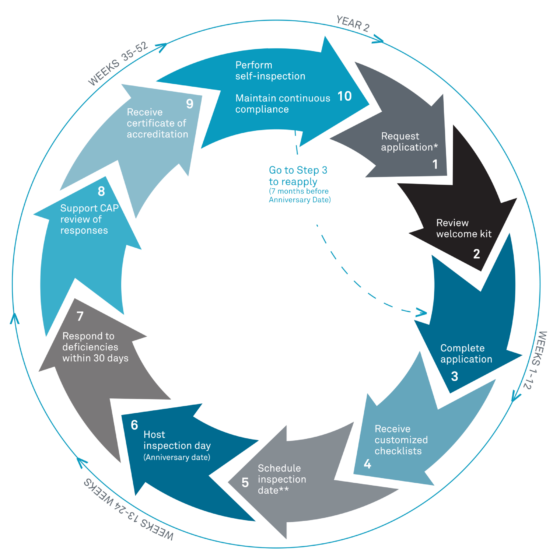 Find a CAP-Accredited Reproductive Laboratory
Use our database to search for CAP accredited reproductive laboratories.