Archives of Pathology & Laboratory Medicine
The Archives of Pathology & Laboratory Medicine, the monthly international peer-reviewed journal of the College of American Pathologists, is the most highly read journal/periodical title among US practicing pathologists.
---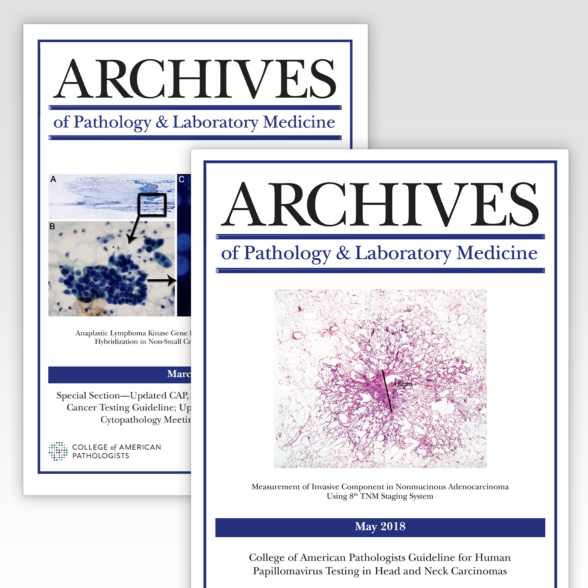 In This Month's Issue:
Prior High-Risk Human Papillomavirus Testing and Papanicolaou Test Results of 70 Invasive Cervical Carcinomas Diagnosed in 2012: Results of a Retrospective Multicenter Study
Persistent high-risk human papillomavirus (hrHPV) infection is essential for the development of cervical cancer and its precursor lesions. High-risk HPV testing has a higher sensitivity than cytology does for detecting cervical epithelial lesions. However, a large study from a single institution showed 31% of patients with invasive cervical cancer had negative baseline hrHPV testing within 5 years preceding the diagnosis. To investigate the limitation of hrHPV testing in detecting invasive cervical cancer, cases from 2012 with a histologic diagnosis of invasive cervical carcinoma were retrieved from multiple institutions. The results of this study expose limitations for the potential use of primary HPV testing. In addition, current screening guidelines recommending cotesting at 5-year intervals should be evaluated further with additional historic data collection.
Access the latest issue of the Archives
---
Order Information/Subscriptions
Instructions for Authors and Manuscript Submissions