Biorepository Accreditation Program
High quality biospecimens are needed to improve patient outcomes. As a result of unprecedented research in precision medicine, demand for fit for purpose biospecimens is growing rapidly. According to a US survey of National Cancer Institute (NCI) funded cancer researchers, lack of quality biospecimens resulted in 60% of researchers questioning their findings and 81% limiting the scope of their work.1
Pioneered in 2012, our Biorepository Accreditation Program was the first accreditation program designed to improve the quality and consistency of biorepositories. Drawing on best practices from ISBER, NCI, OECD, CMS and the Laboratory Accreditation Program, the goal of the program is to provide requirements for standardization of processes that will result in high-quality human specimens and genetic materials that can be used to support research. Recently, CAP physician members contributed to the ISO technical committee that developed the ISO 20387 standard for biobanking.
2019 Biorepository Checklist Requirements
Diagnostic patient testing must be performed within a CLIA licensed laboratory. In 2019, CMS approved our biorepository checklist requirements as being consistent with CLIA regulations. Alignment of the checklists from the CAP's Biorepository Accreditation Program and Laboratory Accreditation program help ensure:
Confidence in specimen provenance- a clinical laboratory director may accept specimens for testing from a BAP accredited repository because of formal CLIA-approved requirements in specimen collection integrity.

Confidence in pre-analytic variable tracking and control for samples used in drug trials with associated biomarker development.
Improved alignment of accreditation preparation and inspection processes for repositories affiliated with CAP-accredited laboratories
Listen to our Biorepository Experts
Drawing on the collective knowledge of our biobanking experts, our podcast series covers key topics within biobanking.
Program Benefits
Biorepository accreditation from the CAP helps to ensure:
Appropriate ethical and legal frameworks for use of biospecimens in IRB-approved research

Well-controlled pre-analytic variables for optimal scientific investigation or biomarker development
Robust chain of custody tracking, reduced risk of misidentification
Appropriate storage conditions and temperature monitoring
Best practice policies and procedures for sample release
Histologic quality assurance for starting tumor content in samples homogenized for downstream assays
Confidence in the long-term quality of biospecimens
Differentiation for research/grant funding opportunities
Program Details
Eligibility Requirements
Facilities must receive, store, process, and/or disseminate biospecimens, their derivatives, and relevant data for research purposes.

This program is not applicable for tissue stored for transplant purposes.
The Accreditation Cycle
The graphic below captures the accreditation and inspection cycle for CAP-accredited biorepositories. Inspections for the Biorepository Accreditation program are announced.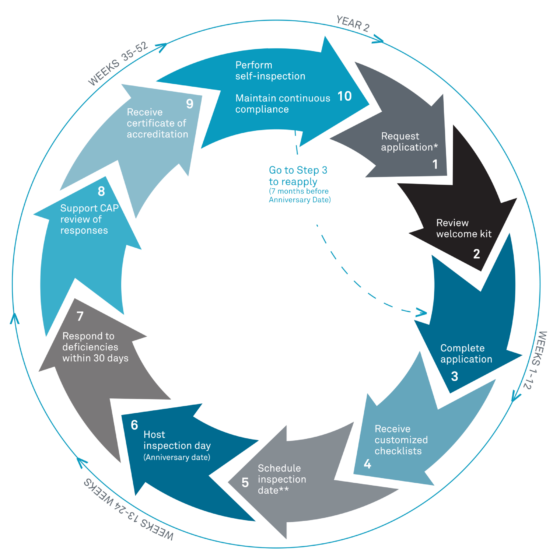 Find a CAP-Accredited Biorepository
Use our database to search for CAP-accredited biorepositories.
---
1 Assessing the need for a standardized cancer HUman Biobank (caHUB): findings from a national survey with cancer researchers. Massett HA1, Atkinson NL, Weber D, Myles R, Ryan C, Grady M, Compton C.