New Evidence-Based Guideline on HER2 Testing
New Evidence-Based Guideline On HER2 Testing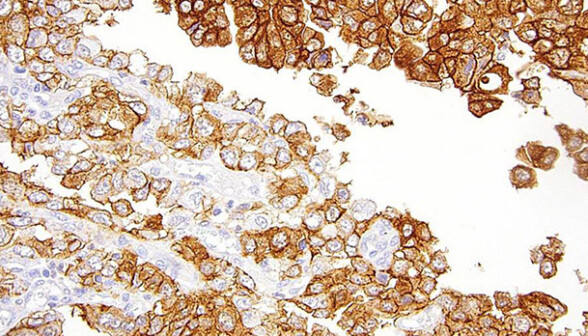 E-mail: MEDIA@CAP.ORG
Northfield, IL, Chicago, IL, Alexandria, VA—The College of American Pathologists (CAP), the American Society for Clinical Pathology (ASCP), and the American Society of Clinical Oncology (ASCO) today released an evidence-based clinical practice guideline on human epidermal growth factor receptor 2 (HER2) testing for patients with gastroesophageal cancers.
"HER2 Testing and Clinical Decision Making in Gastroesophageal Adenocarcinoma: Guideline from the College of American Pathologists, American Society for Clinical Pathology, and the American Society of Clinical Oncology" is now available as an early online release published in ARCHIVES OF PATHOLOGY & LABORATORY MEDICINE, American Journal of Clinical Pathology, and Journal of Clinical Oncology.
The guideline provides recommendations about appropriate HER2 testing for patients at key decision points throughout their cancer therapy to determine if they are eligible for targeted therapy. Patients who are eligible for targeted therapy have additional treatment options available to them and they generally experience improved outcomes.
Cancers of the stomach and esophagus are among the most common cancers globally, and an estimated 43,280 new cases of gastroesophageal adenocarcinoma (GEA) will be diagnosed in the US in 20161. Certain patients with advanced gastric cancer will have more HER2, known as an overexpression of HER2, than other patients. For those patients that overexpress HER2, the targeted therapy trastuzumab has been shown to improve patient survival when it is added to standard chemotherapy.
"This guideline recommends that assessment of HER2 status be included in the diagnostic protocol for gastroesophageal adenocarcinoma," explains Angela N. Bartley, MD, FCAP, a pathologist, St. Joseph Mercy Health System, Ann Arbor, Mich. "Ultimately, clinicians who use the guideline will help ensure that patients receive the best treatment for their type of cancer."
Dr. Bartley represented the CAP and was one of the three organizational co-chairs of the international panel of pathology and oncology experts who developed the guideline. The panel's evidence-based process included extensive review of relevant published literature, feedback on draft guidance garnered through an open comment period earlier this year, and revisions based on that open commentary.
"As cancer care evolves to be increasingly personalized, this new guideline helps establish standards for when and how to accurately perform HER2 testing to guide treatment for gastroesophageal adenocarcinoma patients," said co-chair Jaffer A. Ajani, MD, FASCO, a medical oncologist at the MD Anderson Cancer Center in Houston, who represented ASCO for this guideline.
This comprehensive, evidence-based guideline for HER2 testing in gastroesophageal adenocarcinoma (GEA), has a set of 11 recommendations that are separated to support those who treat the patient with cancer and those who perform tumor tissue testing. Some of the recommendations include:
In patients with advanced GEA who are potential candidates for HER2 targeted therapy, the treating clinician should request HER2 testing on tumor tissue.
Treating clinicians should offer combination chemotherapy and HER2 targeted therapy as the initial treatment for appropriate patients with HER2 positive tumors who have advanced GEA.
Laboratories/pathologists must specify the antibodies and probes used for the test and ensure that assays are appropriately validated for HER2 immunohistochemistry (IHC) and in situ hybridization (ISH) testing on GEA specimens.
When GEA HER2 status is being evaluated, laboratories/pathologists should perform/order IHC testing first followed by ISH when IHC result is 2+ (equivocal). Positive (3+) or negative (0 or 1+) HER2 IHC results do not require further ISH testing.
"We encourage clinical teams around the world to adopt these guidelines," said Mary Kay Washington, MD, PhD, FASCP, a pathologist at Vanderbilt University Medical Center, Nashville, Tenn., who represented ASCP. "It will help improve patient care by ensuring that only patients likely to benefit from HER2‐directed therapy are treated with trastuzumab."
These recommendations have been developed consistent with the Institute of Medicine's evidence‐based clinical practice guideline development recommendations.
References
1. American Cancer Society: Cancer facts & figures 2016. www.cancer.org/acs/groups/cont... (Accessed July 8, 2016)
About the College of American Pathologists
As the leading organization with 18,000 board-certified pathologists, the College of American Pathologists (CAP) serves patients, pathologists, and the public by fostering and advocating excellence in the practice of pathology and laboratory medicine worldwide. The CAP's Laboratory Improvement Programs, initiated 65 years ago, currently has customers in more than 100 countries, accrediting 7,900 laboratories and providing proficiency testing to nearly 22,000 laboratories worldwide. Find more information about the CAP at CAP.ORG. Follow CAP on Twitter at @PATHOLOGISTS.
About ASCO
Founded in 1964, the American Society of Clinical Oncology (ASCO) is committed to making a world of difference in cancer care. As the world's leading organization of its kind, ASCO represents more than 40,000 oncology professionals who care for people living with cancer. Through research, education, and promotion of the highest-quality patient care, ASCO works to conquer cancer and create a world where cancer is prevented or cured, and every survivor is healthy. ASCO is supported by its affiliate organization, the Conquer Cancer Foundation. Learn more at ASCO.ORG, explore patient education resources at CANCER.NET, and follow us on FACEBOOK, TWITTER, LINKEDIN, and YOUTUBE.
About ASCP
Founded in 1922 in Chicago, ASCP is a medical professional society with more than 100,000 member board‐certified anatomic and clinical pathologists, pathology residents and fellows, laboratory professionals, and students. ASCP provides excellence in education, certification, and advocacy on behalf of patients, pathologists, and laboratory professionals. To learn more, visit ASCP.ORG. Follow us on FACEBOOK, TWITTER, LINKEDIN, INSTAGRAM, and YOUTUBE.