CancerLinQ LLC And The College Of American Pathologists Launch Partnership To Improve Cancer Knowledge Base For Physicians And Patients
CancerLinQ LLC and College of American Pathologists Launch Partnership To Improve Cancer Knowledge Base For Physicians And Patients
Contact: Joe Schramm
Phone: 847-832-7445
E-mail: MEDIA@CAP.ORG
Joint Work on CancerLinQ® Is Latest in Series of Collaborative Efforts Between ASCO and the Leading Professional Society for Board-Certified Pathologists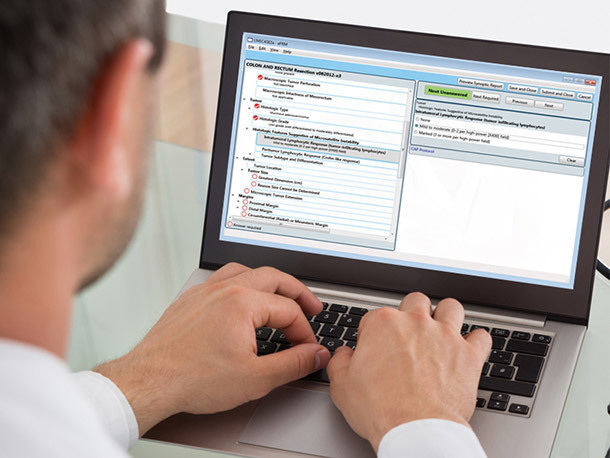 Alexandria, VA—CancerLinQ LLC, a wholly owned nonprofit subsidiary of the American Society of Clinical Oncology (ASCO), and the College of American Pathologists (CAP) announced today that they will be partnering to bolster the expertise being provided to the CANCERLINQ® platform, a real-world, big data initiative focused on cancer patient medical information, aimed at improving the quality of patient care and outcomes.
"With the CAP, we now will be able to benefit from the expertise of leaders in the practice of pathology and laboratory science, further growing our collaborative network of important champions and supporters essential to the patient care journey," said CancerLinQ LLC Chief Executive Officer Kevin Fitzpatrick. "This partnership—the latest in a series of collaborative initiatives that ASCO and the CAP have pursued together—continues the steady expansion of CancerLinQ's reach and impact across the broader healthcare community."
The CAP, founded in 1946, brings together board-certified pathologists from across the nation with a vision of making people healthier as a result of excellence in the practice of pathology and laboratory medicine. The newly formed strategic alliance between CancerLinQ and the CAP represents an important recognition of the critical role pathologists play in the cancer care continuum, beginning with accurate and timely diagnosis, particularly in the modern era of genomics and precision medicine. In addition, CancerLinQ will benefit from greater access to CAP-developed standardized electronic reporting frameworks, such as the CAP electronic Cancer Checklists, for cancer pathology results delivered to external systems, including CancerLinQ.
"The pathologist's role in cancer diagnosis and management will lend pathology and laboratory medicine expertise to the data and information offered in this new platform," said CAP President Richard C. Friedberg, MD, PhD, FCAP. "The CAP has dedicated itself to providing the best quality of care to patients and welcomes the opportunity to improve care through CancerLinQ with ASCO."
The CAP will participate in the CancerLinQ Oncology Leadership Council, the official body of strategic advisors comprised of member representatives from CancerLinQ partner organizations and other CancerLinQ advisory groups. The CAP will educate its members about the use, purpose, and benefits of the CancerLinQ network and platform, allowing its professional members an opportunity to participate and utilize CancerLinQ where relevant, similar to other collaborating organizations.Z
As an official CancerLinQ partnering organization, the CAP will have the ability to access to CancerLinQ Discovery™—anonymized, statistically de-identified, fit-for-purpose clinical data sets derived from the CancerLinQ platform to support hypothesis-based research. Physicians, researchers, and analysts in the oncology field can submit requests to the CancerLinQ Discovery Research & Publications Committee for access to data sets to be used in creating new clinical knowledge for improving patient outcomes. The data sets are generated from the rapidly growing CancerLinQ database, which currently includes practices in 40 states and the District of Columbia.
ASCO and the CAP have a history of collaboration that goes back more than a decade, working together to optimize care for patients with cancer by fostering excellence in the practices of pathology and oncology. In 2014, the two societies formalized their commitment to work together in a number of mutually important areas to advance high-quality care, and last year the CAP presented ASCO President Daniel F. Hayes, MD, FACP, FASCO, with a special recognition of this shared commitment.
Prior to the CancerLinQ partnership, the two organizations worked together on a variety of initiatives, including the TAPUR STUDY; a Liquid Biopsies Working Group; a Molecular Oncology Tumor Board online educational series; and several clinical practice guidelines, including the seminal work on "Recommendations for Human Epidermal Growth Factor Receptor 2 (HER2) Testing in Breast Cancer" in 2007 and 2013, which is currently undergoing a focused update.
The collaboration with the CAP is the latest in a series of partnerships that CancerLinQ LLC has entered with thought leaders from a variety of influential organizations, including government agencies, professional medical specialty societies, advocacy groups, and the life sciences community. To date, CancerLinQ LLC has publicly announced formal partnerships with the AMERICAN SOCIETY OF RADIATION ONCOLOGY (ASTRO), CANCER INFORMATICS FOR CANCER CENTERS (CI4CC), HEMATOLOGY/ONCOLOGY PHARMACY ASSOCIATION (HOPA), ONCOLOGY NURSING SOCIETY (ONS), and AstraZeneca, which BECAME THE FOUNDING ENTERPRISE PARTNER for CancerLinQ Discovery™ in November 2016. The goal of these strategic alliances is to create a multidisciplinary, networked coalition of committed leaders for expertise, guidance, and accelerated creation of new insights for the CancerLinQ platform that can improve quality, efficiency, and value for the entire cancer care delivery system.
CancerLinQ is supported in part through the CONQUER CANCER FOUNDATION, whose generous donors have helped make the system possible. Major supporters include Amgen; Astellas; AstraZeneca; Bayer HealthCare Pharmaceuticals Inc.; Boehringer Ingelheim Pharmaceuticals, Inc.; Cancer Treatment Centers of America®; Chan Soon-Shiong Family Foundation; Genentech BioOncology™; HELSINN; Janssen Oncology; Lilly; Raj Mantena, RPh; Novartis Oncology; Pfizer Oncology; Thomas G. Roberts, Jr., MD, and Susan M. DaSilva; and Susan G. Komen®.
CancerLinQ® and CancerLinQ Discovery™ are projects of CancerLinQ LLC. For more information on how to participate or partner with CancerLinQ, please visit CancerLinQ.org.
About ASCO
Founded in 1964, the American Society of Clinical Oncology, Inc. (ASCO®) is committed to making a world of difference in cancer care. As the world's leading organization of its kind, ASCO represents more than 40,000 oncology professionals who care for people living with cancer. Through research, education, and promotion of the highest-quality patient care, ASCO works to conquer cancer and create a world where cancer is prevented or cured, and every survivor is healthy. ASCO is supported by its affiliate organization, the Conquer Cancer Foundation. Learn more at WWW.ASCO.ORG, explore patient education resources at WWW.CANCER.NET, and follow us on Facebook, Twitter, LinkedIn, and YouTube.
About CancerLinQ LLC
CancerLinQ LLC is a subsidiary of American Society of Clinical Oncology, Inc. established for the development and operation of the CancerLinQ® initiative. CancerLinQ is a health information technology platform aimed at enhancing and improving the understanding and treatment of cancer. To learn more, visit WWW.CANCERLINQ.ORG.
About the College of American Pathologists
As the world's largest organization of board-certified pathologists and leading provider of laboratory accreditation and proficiency testing programs, the College of American Pathologists (CAP) serves patients, pathologists, and the public by fostering and advocating excellence in the practice of pathology and laboratory medicine worldwide. For more information, read the 2017 CAP Annual Report at CAP.ORG.