College Of American Pathologists Honors Member Physicians for Excellence
College Of American Pathologists Honors Member Physicians for Excellence
Contact: Aaron Osborne
Phone: 800-323-4040 ext. 7030
E-mail: media@cap.org
Honors Given for Patient Care, Resident Leadership Education and Dedication to the Specialty
Northfield, IL—The College of American Pathologists (CAP), the world's largest association of board-certified pathologists, recently honored 27 members for their tireless efforts through work with the organization, clinical partners, patients, students, and the public at large. The members accepted their awards at ceremonies during the CAP's annual meeting in Las Vegas last month.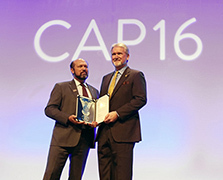 "Traditionally, health care has evolved at a steady rate, but the past several years have seen a period of uncommonly rapid change and uncertainty, requiring strong leadership to guide medical care professionals. Those leaders are often found in the laboratory," said CAP President Richard C. Friedberg, MD, PhD, FCAP. "These 28 leaders are just a tiny sample of the leading work, collaboration, and research being done by pathologists all over the world to improve patient outcomes every day."
The CAP16 member awards were given across six categories: Advancing the Specialty, Patient Care, Service to the Specialty, Education and Lifetime Achievement. The CAP also presented an award to an outstanding staff member to denote excellence among its more than 600 employees.
Advancing the Specialty
CAP Pathologist of the Year Award
Gene N. Herbek, MD, FCAP
Medical Director of Transfusion Services at Methodist Hospital
Medical Director of Methodist Women's Hospital Laboratory in Omaha, Nebraska
CAP Pathology Advancement Award
Cordelia Ex. Sever, MD, FCAP
Vice President and Director of Clinical Pathology at Pathology Associates of Albuquerque
Medical Director of Presbyterian Hospital Laboratory and Presbyterian Branch Labs
co-Medical Director of the Clinical Laboratory for Hematology at TriCore Reference Laboratories in Albuquerque, New Mexico
CAP Outstanding Communicator Award
Carey Zimmerman August, MD, FCAP
director of anatomic pathology
associate chair for the department of pathology
member of obstetrics and gynecology at Advocate Illinois Masonic Medical Center in Chicago
Patient Care
CAP Distinguished Patient Care Award
Kathleen G. Beavis, MD, FCAP
Director of Microbiology and Immunology Laboratories at the University of Chicago Medical Center
Professor of Pathology at the University of Chicago School of Medicine
CAP Foundation Gene and Jean Herbek Humanitarian Award
Sang Wu, MD, FCAP
Medical Director for Laboratory Services at Texas Health Presbyterian Hospital in Denton, Texas
Pathologist at North Dallas Pathology Services.
Service to the Specialty
CAP Public Service Award in Honor of Frank C. Coleman
Diana M. Cardona, MD, FCAP
Associate Professor, Medical Director of Histology Immunopathology Laboratories and the Pathologists' Assistant Program, and Chief of Bone and Soft Tissue Pathology at Duke University
CAP Laboratory Improvement Programs Service Award
William J. Castellani, MD, FCAP
Professor in the Department of Biochemistry and Molecular Biology at the Penn State College of Medicine where he was also Medical Director for the Clinical Chemistry and Specimen Retrieving, as well as the core research laboratory until his retirement in 2014
CAP Outstanding Service Award in Honor of Frank W. Hartman
Jonathan L. Myles, MD, FCAP
Anatomic Pathologist at the Cleveland Clinic Foundation
Previous Director for Quality Assurance and Billing Committee
CAP Laboratory Accreditation Program Service Award in Honor of Major General Joseph M. Blumberg
Stephen J. Sarewitz, MD, FCAP
Member of the Honorary Medical Staff at Valley Medical Center in Renton, Washington
Previously Checklist Commissioner, Member of the Board of Governors, Member of Council of Accreditation, and a volunteer laboratory inspector at the CAP
CAP Distinguished Service Award
Karl V. Voelkerding, MD, FCAP
Professor of Pathology at the University of Utah
Medical Director for Genomics and Bioinformatics at ARUP Laboratories in Salt Lake City, Utah
Education
CAP Excellence in Teaching Award
Richard M. Scanlan, MD, FCAP
Professor of Pathology at Oregon Health & Science University in Portland
CAP Excellence in Education Award
Walter H. Henricks, MD, FCAP<>br>Vice Chair of the Pathology and Laboratory Medicine Institute
Medical Director for the Center for Pathology Informatics, both at the Cleveland Clinic in Ohio
CAP Resident Advocate Award
Joseph Allan Tucker, MD, FCAP
receiving this award posthumously
Dr. Tucker served as a professor and chair of the pathology department, as well as the director of anatomic pathology at the University of South Alabama College of Medicine
Lifetime Achievement
Hector C. Aldape, MD, FCAP
Emeritus Clinical Professor at the University of Washington Medical School's Department of Pathology.
Daniel J. Brat, MD, PhD, FCAP
Neuropathologist at Emory University Hospital
Drector of Neuropathology at the Emory University School of Medicine in Atlanta
Desiree A. Carlson, MD, FCAP
Chief of Pathology and President of Carlson Pathology Associates in Brockton, Massachusetts
Associate Professor at Boston University School of Medicine
Joan E. Etzell, MD, FCAP
Vice President and Medical Director for Sutter Health Shared Laboratory in Livermore, California
Vinay Kumar, MBBS, MD, FCAP
Professor and Chair of the Department of Pathology at the University of Chicago
Kailash B. Sharma, MD, FCAP
Laboratory Director for University Hospital in Augusta, Georgia
Medical Examiner for Richmond County
Resident Leadership
Jordan E. Baum, MD
Chief Resident in Anatomic and Clinical Pathology at New York Presbyterian Hospital at Weill Cornell Medical Center
Medical degree from Indiana University School of Medicine
David A. Cohen, MD
Anatomic and Clinical Pathology Resident, Houston Methodist Hospital
Medical Degree from University of Miami Miller School of Medicine
Benjamin Cook, MD
Pathology Resident, Madigan Army Medical Center, Fort Lewis, WA
medical degree from University of Iowa's Roy J. and Lucille A. Carver College of Medicine
Daniel S. Herman, MD, PhD
Resident, Clinical Pathology, University of Washingont
Assistant Professor University of Pennsylvani
medical degree and doctorate of philosophy in genetics, Harvard University
Andrea Pervine-Zaman Ho, MD
Resident, Truman Medical Center at the University of Missouri, Kansas City
medical degree from Saint Louis University School of Medicine
Sarmad Hassan Jassim, MD
Resident, MetroHealth Medical Center, Case Western Reserve University
medical degree from College of Medicine of Al-Nahrain University, Baghdad
Rebecca C. Obeng, MD, PhD, MPH
Resident, Emory University Hospital, Atlanta
medical degree and master's degree in public health, Harvard University
Amy Thommasen, MD
Chief Resident, University of Calgary
medical degree University of British Columbia Faculty of Medicine
CAP Staff Outstanding Achievement Award
Denise K. Driscoll, MS, MT
Senior Director of Laboratory Accreditation and Regulatory ffairs at the CAP
Ms. Driscoll receives this award in honor of her significant impact in support of the organization and its members.
About the College of American Pathologists
As the leading organization for board-certified pathologists, the College of American Pathologists (CAP) serves patients, pathologists, and the public by fostering and advocating excellence in the practice of pathology and laboratory medicine worldwide. With 18,000 physician members, the CAP has led laboratory accreditation for more than 50 years with more than 7,800 CAP-accredited laboratories in 50 countries. Find more information about the CAP at cap.org. Follow CAP on Twitter at @pathologists.