Clinical Summary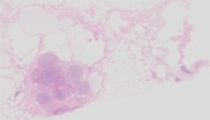 A 30-year-old woman presents with rapid onset of vomiting, abdominal pain, and distention. Radiologic imaging reveals a 20 cm cystic mass causing bowel obstruction due to volvulus. The patient undergoes emergency surgical removal of this large mass, with small-bowel resection and end-to-end anastomosis.
Master List
Angiosarcoma
Arteriovenous hemangioma
Cavitary tuberculosis
Lymphangioleiomyoma
Lymphangioma
Multicystic mesothelioma
View slide image with DigitalScope
Archive Case and Diagnosis
This case first appeared as Performance Improvement Program in Surgical Pathology (PIP) 2015, case 14, and is a lymphangioma.
Criteria for Diagnosis and Comments
Lymphangioma is a rare benign condition characterized by proliferation of vessels of lymphatic phenotype. It is usually found in the head and neck of children, such as cystic hygroma associated with Turner syndrome. Lymphangioma of the small bowel mesentery is rare, reported as less than 1% of all lymphangiomas; it can occur in children and young adults. Importantly, it can cause fatal complications such as volvulus or involvement of the main branch of the mesenteric arteries, requiring emergency surgery. Complete excision precludes recurrence; there is no malignant transformation of lymphangioma. Mesenteric lymphangioma usually presents with painless abdominal swelling; however, it can cause secondary intestinal obstruction, with pain and vomiting. Abdominal computed tomography (CT) scan may demonstrate a multiseptated mass in the lower abdominal quadrants with a whirl-like small-bowel dilatation, suggestive of a mesenteric cyst with midgut volvulus. Although rare and difficult to diagnose preoperatively, surgical resection is considered to be the gold standard treatment for mesenteric lymphangioma, even for those without bowel obstruction. The intraoperative findings may reveal a large, lobulated, yellowish-pink, cystic mass originating from the small bowel mesentery, with or without small-bowel volvulus and small-bowel dilatation. Cut surface of the mass reveals multicystic spaces containing a milky white fluid. Lymphangioma is morphologically recognized by its undulating flattened endothelial lining, occasional intraluminal valve-like structures, and, most importantly, stromal and intraluminal lymphocytes, occasionally with germinal centers, and intraluminal proteinaceous fluid. There may be interstitial edema or fibrosis. By immunohistochemistry, lymphangioma is positive for vascular (CD31, factor VIII-related antigen) and lymphatic-specific (D2-40) markers.

The radiologic and gross features of lymphangioma may resemble other vascular lesions such as arteriovenous hemangioma or angiosarcoma, the cavitary form of mesenteric lymph node tuberculosis, lymphangioleiomyoma (LAM), and benign multicystic mesothelioma. Smooth muscle actin, which immunostains the pericytes and smooth muscle around benign vascular and lymphatic endothelium, is absent in angiosarcoma, which also has marked cytologic atypia, dissecting growth pattern, epithelioid endothelial cells, and mitotic activity. Angiosarcoma would typically be intrasplenic or intrahepatic and not along small bowel mesentery, with the exception of direct extension or metastatic disease. Arteriovenous hemangioma (AVH) is a deep, usually intramuscular, benign vascular malformation composed of arteries with thick walls and smaller lumens and veins with thin walls and larger lumens and valves. By definition, in addition to typical pathology, AVH must have radiologic evidence for an arteriovenous shunt or clinical evidence for a bruit. As opposed to the index case, AVH is not typical in a mesenteric location. Calretinin, positive in multicystic mesothelioma, is negative in lymphangioma. Also, while D2-40, a lymphatic sensitive marker, immunostains mesothelial cells, other vascular endothelial specific markers which are positive in lymphangioma are negative in mesothelioma. Whereas malignant mesothelioma can be epithelioid or spindled and exhibits malignant behavior, multicystic peritoneal mesothelioma is a cystic tumor that may be multifocal and has benign behavior. Desmin and HMB-45, positive in lymphangioleiomyoma (-tosis, LAM), one of the myomelanocytic family tumors that causes acute respiratory distress in females, are negative in lymphangioma. Coincidentally, there are reports of adults with mesenteric lymphangioma who are from countries where cavitary intraabdominal cystic tuberculosis is prevalent. Although the radiologic imaging can be similar, these can easily be distinguished from lymphangioma morphologically by absence of necrobiotic granulomata, negative AFB, and negative TB skin test.
Supplementary Questions:
Which of the following is the most sensitive immunostain for lymphatic phenotype?




CD31
D2-40
Factor VIII-related antigen
Pankeratin
SMA

What are the most important morphologic features to recognize lymphangioma?




Cytologic atypia
Endothelial lining
Intraluminal valve
Proteinaceous fluid and intraluminal and stromal lymphocytes
SMA-positive smooth muscle phenotype cells around cystic luminal space

Mesenteric lymphangioma can be clinicoradiologically distinguished from cystic peritoneal mesothelioma, cavitary tuberculosis, and other benign and malignant intraabdominal vascular tumors?




True
False
---
References
Al Dhaybi R, Agoumi M, Powell J, Dubois J, Kokta V. Lymphangiosarcoma complicating extensive congenital mixed vascular malformations. Lymphat Res Biol. 2010;8(3):175-179.
Fanburg-Smith JC, Michal M, Partanen TA, Alitalo K, Miettinen M. Papillary intralymphyatic angioendothelioma (PILA): a report of twelve cases of a distinctive vascular tumor with phenotypic features of lymphatic features of lymphatic vessels. Am J Surg Pathol. 1999;23(9):1004-1010.
Folpe AL, Mentzel T, Lehr HA, Fisher C, Balzer BL, Weiss SW. Perivascular epithelioid cell neoplasms of soft tissue and gynecologic origin: a clinicopathologic study of 26 cases and review of the literature. Am J Surg Pathol. 2005;29(12):1558-1575.
Mboyo A, Flurin V, Foulet-Roge A, Bah G, Orain I, Weil D. Conservative treatment of a mesenteric lymphangiomyomatosis in an 11-year-old girl with a long follow-up period. J Pediatr Surg. 2004;39(10):1586-1589.
Mesić M, Cigit I, Zganjer M, Cizmić A, Zupancić B, Madzar Z. Cystic lymphangioma of jejunal mesentery mimicking acute appendicitis: case report. Acta Clin Croat. 2013;52(1):129-132.
Suthiwartnarueput W, Kiatipunsodsai S, Kwankua A, Chaumrattanakul U. Lymphangioma of the small bowel mesentery: a case report and review of the literature. World J Gastroenterol. 2012; 18(43):6328-6332.
Wani I. Mesenteric lymphangioma in adult: a case series with a review of the literature. Dig Dis Sci. 2009;54(12):2758-2762.
Witek TD, Marchese JW, Farrell TJ. A recurrence of benign multicystic peritoneal mesothelioma treated through laparoscopic excision: a case report and review of the literature. Surg Laparosc Endosc Percutan Tech. 2014;24(2):e70-73.
---
Author
Julie C. Fanburg-Smith, MD
Surgical Pathology Committee
Surgical Pathology Consultation Services
Orthopaedic, Soft Tissue, General Surgical Pathology, Pathology Department
Sibley Memorial Hospital of Johns Hopkins Medicine
Washington DC
---
Answer Key
D2-40 (b)
Proteinaceous fluid and intraluminal and stromal lymphocytes (d)
False (b)