Clinical Summary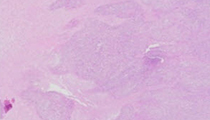 A 67-year-old man presents with complaints of hematuria and flank pain. A computerized tomography (CT) scan shows a 10.5 cm mass in the upper pole of the right kidney and retroperitoneum. The patient undergoes a right radical nephrectomy. Grossly, the tumor is yellow-tan and centered in the renal cortex. Tumor penetrates the renal capsule and extends into perinephric adipose tissue. Immunohistochemical evaluation demonstrates tumor cells expressing pan-cytokeratin (AE1/AE3), vimentin, and epithelial membrane antigen (EMA).
Master List
Leiomyosarcoma
Malignant fibrous histiocytoma (undifferentiated high-grade pleomorphic sarcoma)
Mucinous tubular and spindle cell carcinoma
Sarcomatoid renal cell carcinoma
Synovial sarcoma
View slide image with DigitalScope
Archive Case and Diagnosis
This case first appeared as Performance Improvement Program in Surgical Pathology (PIP) 2014, case 21 and is a sarcomatoid renal cell carcinoma.
Criteria for Diagnosis and Comments
Histologic sections show a poorly differentiated malignant tumor with spindle-shaped cells and prominent nuclear pleomorphism. The cells have eosinophilic cytoplasm and cellular borders are indistinct. Scattered mitotic activity is present. In these sections, other histologic types of renal cell carcinoma are not identified.

Sarcomatoid renal cell carcinoma (SRCC) is a malignant renal tumor which is also known by other names including carcinosarcoma, spindle cell carcinoma, and anaplastic carcinoma. The tumor primarily affects men in the 6th decade of life and comprises 1% of adult renal tumors Sarcomatoid morphology in renal tumors may be seen as either focal or diffuse findings in any histologic type of renal cell carcinoma. The prognosis for this entity is poor, even if only focal features of sarcomatoid change are present. Patients may present with retroperitoneal involvement and distant metastases most commonly to the lung. Morphologically, the sarcomatoid carcinoma most commonly exhibits focal or diffuse spindle cells, with pleomorphic and multinucleated giant cells (as seen in this case) being less common findings. Cartilaginous and osseous differentiation may also be seen. Immunohistochemical findings may be helpful in discriminating between SRCC and primary sarcomas of the kidney. SRCC is positive in most cases for PAX8, AE1/AE3, EMA, CD10, and vimentin. The tumor is generally negative for desmin, RCC, smooth muscle actin(SMA), p63, and high molecular weight cytokeratin.
Primary leiomyosarcoma of the kidney or retroperitoneum is also a diagnostic consideration. Gross pathologic features are not typically helpful in discriminating between leiomyosarcoma and sarcomatoid carcinoma. Leiomyosarcoma is generally composed of monomorphic appearing spindle cells, but, like sarcomatoid carcinoma, leiomyosarcoma can demonstrate prominent nuclear pleomorphism. This tumor is very rare in the kidney, accounting for only 0.5 to 1 percent of all primary renal malignancies; however, it is the most common form of primary sarcoma involving the kidney Immunohistochemically, these tumors express SMA and desmin, but may also be focally positive for EMA. The lack of cytokeratin staining in leiomyosarcoma helps in differentiating the sarcoma from sarcomatoid carcinoma which is positive for cytokeratin. Nevertheless, caution should be observed in making a diagnosis of primary renal leiomyosarcoma, as sarcomatoid carcinomas may also express smooth muscle markers on immunohistochemical analysis and leiomyosarcomas may express epithelial markers such as EMA. Renal leiomyosarcoma is associated with a poor prognosis.
While rare, primary renal synovial sarcoma is in the differential diagnosis with SRCC. These tumors may be partially cystic and necrotic, and may affect patients over a wide age range. Histologic features of the tumor are also variable. Primary renal synovial sarcoma may demonstrate a monophasic growth pattern of spindle-shaped cells with indistinct cell borders and ovoid nuclei with inconspicuous nucleoli. Other reported patterns include the hemangiopericytoma-like and rhabdoid histologies. Immunohistochemical stains may be helpful in distinguishing between synovial sarcoma and SRCC. PAX2 and PAX8, markers which may be expressed in SRCC are typically negative in renal synovial sarcomas. Synovial sarcomas oftentimes demonstrate staining for BCL-2, TLE1 and CD56. Cytogenetic and molecular pathologic evaluation may be most helpful in discriminating between SRCC and primary renal cell synovial sarcoma, as the vast majority of synovial sarcomas contain a characteristic SYT-SSX2 transcript due to t(X;18)(p11;q11) detected by reverse transcriptase polymerase chain reaction studies.
Mucinous tubular and spindle cell carcinoma (MTSC) may, in some cases, be confused with SRCC. MTSC is a low grade renal epithelial neoplasm which sometimes may demonstrate features mimicking leiomyoma or sarcoma. Typically, this tumor is centered in the renal medulla and is frequently discovered incidentally. Typical histopathologic features of MTSC include tubular and papillary growth lined with cytologically bland appearing cuboidal cells mixed with areas of myxoid stroma and spindle cell changes. Spindle cells are typically large and contain eosinophilic cytoplasm. Some tumors may contain very little mucin, a feature which may create diagnostic difficulties. Immunohistochemically, this tumor demonstrates a profile similar to that of papillary renal cell carcinoma (positivity for EMA, CD10, RCC, CD117). Unlike the other tumors in this differential diagnosis list, this neoplasm has a relatively benign clinical course.
Malignant fibrous histiocytoma (undifferentiated high-grade pleomorphic sarcoma), in addition to other types of primary renal or peri-renal sarcomas, also has overlapping morphologic features with SRCC and may provide diagnostic challenges. Like SRCC, pleomorphic sarcoma of the kidney is also positive for cytokeratin and vimentin. As mentioned previously, primary renal sarcomas are extremely rare and, in addition to leiomyosarcoma, other sarcomas involving the kidney include synovial sarcoma, fibrosarcoma, pleomorphic rhabdomyosarcoma, angiosarcoma, chondrosarcoma, osteosarcoma, and malignant mesenchymoma. Immunohistochemistry and, in some cases, cytogenetic evaluation of these tumors, may be helpful in discriminating between these malignancies.
Supplementary Questions:
A 70-year-old man undergoes a radical nephrectomy which discloses an 8.0 cm mass located within the upper pole. The tumor contains malignant spindle cells. Immunohistochemistry demonstrates tumor cells staining for PAX-8, CD10, and pan-cytokeratin (AE1/AE3). Which of the following is the most common anatomic site for distant metastasis?


Central nervous system
Liver
Lung
Skin
Spleen

A 47-year-old woman is incidentally diagnosed with a 3.0 cm renal mass. The nephrectomy specimen demonstrates a tumor with areas of papillary growth, myxoid stroma, and spindle-shaped cells with eosinophilic cytoplasm. Which of the following diagnoses is most likely?


Leiomyosarcoma
Mucinous tubular and spindle cell carcinoma
Pleomorphic sarcoma
Sarcomatoid renal cell carcinoma
Synovial sarcoma

Which of the following ancillary studies would be most helpful in discriminating sarcomatoid renal cell carcinoma from synovial sarcoma?


BCL-2, PAX8, and t(X;18) evaluation
EMA and p53
Vimentin and desmin
Vimentin, CD99 and EMA
None of the above
---
References
Eble JN, Sauter G, Epstein JI, Sesterhenn IA, eds. Pathology and Genetics of Tumors of Urinary System and Male Genital Organs, 3rd Ed. Lyon, France: IARC Press; 2004.
Murphy WM, Grignon DJ, Perlman EJ. Tumors of the Kidney, Bladder and Related Urinary Structures Fourth Series, vol 1. Washington DC: Armed Forces Institute of Pathology; 2004.
Zhou M, Netto GJ, Epstein JI. Uropathology, vol 1. New York, NY: Elsevier: 2012.
Author
2014
Noel A. Brownlee, MD, PhD FCAP
Surgical Pathology Committee
Bon Secours Saint Francis Health System
Greenville, SC
Answer Key
Lung (3).
Mucinous tubular and spindle cell carcinoma (2).
BCL-2, PAX8, and t(X;18) evaluation (1).