Clinical Summary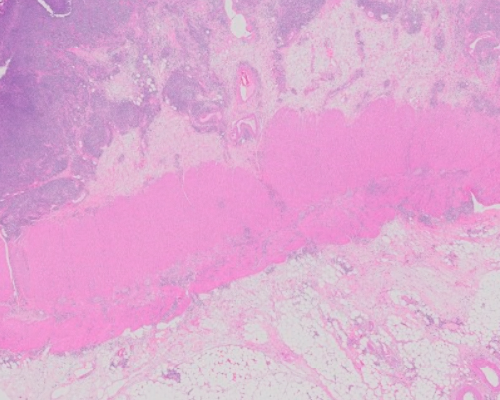 A 37-year-old woman presents to medical attention reporting increasing vague abdominal pain, irregular bowel movements (constipation alternating with diarrhea), and menorrhagia over the past year. The patient has no other significant past medical history. A CBC is unremarkable except for moderate anemia. A computed tomography scan reveals diffuse and extensive flattened areas in the colon, regional lymph node enlargement, and a uterine mass suggestive of a fibroid. Subsequent attempts at colonoscopy are unsuccessful due to poor bowel preparations. Given the worsening symptoms, a hysterectomy and a near total colectomy is performed.
On gross examination (confirmed by histology), the uterine mass is consistent with a leiomyoma. The colon is 111.0 cm in length with a smooth and glistening serosa. A few enlarged peri-colic lymph nodes are seen. One of them is submitted for flow cytometry. The distal 6.0 cm of colon is granular and has multiple areas of ulceration. The bowel wall in this area is thickened. About 18.0 cm of the proximal colonic mucosa shows diffuse polyposis and the 15.0 cm subsequent to this is diffusely flattened. There are multiple areas of hemorrhage in the mucosal surface. Multiple representative sections are submitted for histologic examination.
Master List of Diagnoses
Adenomatous polyposis coli
Diffuse large B-cell lymphoma
Endometriosis
Inflammatory polyp
Mantle cell lymphoma
Multiple myeloma
Non-Hodgkin B-cell lymphoma, low-grade
View slide image with DigitalScope
Archive Case and Diagnosis
This case first appeared as Performance Improvement Program in Surgical Pathology (PIP) 2016, case 26, and is a non-Hodgkin B-cell lymphoma, low-grade.
Criteria for Diagnosis and Comments
The sections show abundant lymphoid tissue, which in some slides appears diffuse. The tissue sections are composed of mostly small lymphocytes, appearing mature with rounded nuclear contours. Scattered moderate-sized lymphocytes are also identified, which have abundant cytoplasm; frequent plasma cells and lymphoplasmacytic cells are also seen. Flow cytometry of the lymph node reveals kappa restricted CD20, CD19 positive B-cells which do not express any other markers (with no aberrant CD5 and CD10 expression identified). Immunostains are performed and confirm that the lymphoid cells are CD20 positive and negative for CD5 and CD10. CD21 highlights scattered attenuated follicular dendritic meshworks with the B-cells completely over-running and extending beyond the confines of the dendritic meshwork. BCL1 (CCND1) is negative. The Ki-67 is low (5-10%). CD138 reveals plasma cells, but not in increased numbers. A predominance of kappa light chain is noted by kappa and lambda (in-situ hybridization). The histologic findings are diagnostic of non-Hodgkin B-cell lymphoma, low-grade. This is best sub-categorized as an extra-nodal marginal zone lymphoma, arising in the colon.
Extra-nodal marginal zone lymphoma is a low-grade non-Hodgkin lymphoma, which can arise in any location of the body (mucosal or non-mucosal). The marginal zone lymphoma of the mucosal tract is termed marginal zone lymphoma, MALT (mucosal associated lymphoid tissue)-type. The most common location for MALT-type lymphoma is the stomach (gastric MALT lymphoma), which is associated with Helicobacter pylori infection. MALT-type colonic marginal zone lymphoma is rare. The histology of small lymphoid cells which appear mature, with lymphoplasmacytic differentiation, the presence of Dutcher bodies (in some slides) along with the immunophenotypic findings of negative CD5 and CD10 and lambda light chain restricted B-cell population are consistent with a marginal zone lymphoma.
The clinical history and gross findings are suggestive of adenomatous polyposis coli (APC). APC is typically seen in younger patients, with diffuse colonic polyps, sometimes having a family history (familial adenomatous polyposis). In this specimen, while the gross examination reveals areas of increased polyps in microscopy there is no hyperplasia of the colonic mucosal epithelia/glands. The colonic mucosa is normal and there is a diffuse infiltrate of lymphoid cells in the lamina propria, submucosa, and muscularis propria extending to the serosal surface. Thus, APC is excluded.
In some areas and slides, the infiltrate appears to be diffuse and infiltrates into fibrous bands. Thus, diffuse large B-cell lymphoma may be considered in the differential diagnosis. However, the cells are not large; rather, the cells are small to moderate size and appear mature with a lymphoplasmacytic differentiation. In addition, the Ki-67 is very low. Many histologic sections and immunostains confirm the presence of follicles interspersed. Thus, diffuse large B-cell lymphoma is also excluded.
Endometriosis can be considered given the abdominal pain and excess bleeding in a young adult female. However, there is no histological evidence of endometrial tissue in any of the sections.
Inflammatory polyp can be seen in patients with inflammatory bowel disease and reveals mixed inflammatory cells and destruction of glandular mucosa. In this case, the glandular mucosa is spared. In addition, the lymphoid infiltrate is clonal; thus the infiltrate represents a lymphoma and not an inflammatory polyp.
Multiple myeloma can present in extra-medullary or extra-osseous locations typically as a mass lesion (plasmacytoma). It presents with diffuse sheets of plasma cells with no or little lymphoid infiltrate. The current specimen represents lymphoid cells with scattered plasma cells. Thus, multiple myeloma is excluded.
Mantle cell lymphoma is the most common lymphoma with small lymphoid cells in the colon. It presents as lymphomatoid polyposis. Thus, based on the clinical and histological profile, mantle cell lymphoma is a strong differential diagnostic consideration. However, mantle cell lymphoma is BCL1 and CD5 positive with a high Ki-67 index. Thus, this differential diagnosis is excluded.
The diagnosis is non-Hodgkin B-cell lymphoma, low-grade. Further subtyping is done on the basis of immunohistochemical profile which shows a low Ki-67 and absence of CD5, CD10, and BCL1. Extra-nodal marginal zone lymphoma of the mucosa associated lymphoid tissue (MALT)-type involving only the colon is rare. In cases with colonic involvement, the stomach should also be examined to see if marginal zone lymphoma is present. Marginal zone lymphoma is low-grade and is managed conservatively. A surgical resection is typically not needed in most cases. Rituximab based treatment can be curative. Translocation involving chromosomes 11 and 18, t(11;18), and chromosomal alterations in 7 have been reported in MALT lymphoma of the stomach but colonic marginal zone lymphoma does not have specific chromosomal abnormalities.
Supplementary Questions
Which of the following is true of marginal zone lymphoma?

It carries a bad prognosis with 5-year survival of ~10%.
It is commonly CD10 positive.
It is commonly cyclin D1 positive.
Many cases of gastric marginal zone lymphoma are associated with Helicobacter pylori infections.
Marginal zone lymphoma needs aggressive therapy which frequently includes surgical resection, radiation, and chemotherapy.

Which of the following diagnoses is consistent with a lymphocytic infiltrate of the colon with the following immunostaining profile: CD20 positive, CD5 positive, BCL1 positive with a high (60-70%) Ki-67 index?

Diffuse large B-cell lymphoma
Follicular lymphoma
Mantle cell lymphoma
Marginal zone lymphoma
Small lymphocytic lymphoma/chronic lymphocytic leukemia

Which of the following is a diagnostic consideration in a young female patient with excessive menstrual bleeding and cyclical abdominal pain, in whom laparoscopic removal of a peritoneal nodule reveals benign endometrial tissue with inflammatory lymphoid tissue?

Endometrial carcinoma
Endometriosis
Inflammatory bowel disease
Metastatic ovarian carcinoma
Non-Hodgkin B-cell lymphoma, low-grade
---
References
Fan CW, Changchien CR, Wang JY, et al. Primary colorectal lymphoma. Dis Colon Rectum. 2000;43:1277–1282.
Ganjoo K, Advani R, Mariappan (Dewar) MR, McMillan A, Horning S. Non-Hodgkin lymphoma of the breast. Cancer. 2007;110(1):25-30.
Harris NL, Jaffe ES, Diebold J, Flandrin G, Muller-Hermelink HK, Vardiman J. Lymphoma classification—from controversy to consensus: the R.E.A.L. and WHO Classification of lymphoid neoplasms. Ann Oncol. 2000;11(1):3–10.
Koch P, del Valle F, Berdel WE, et al. Primary gastrointestinal non-Hodgkin's lymphoma: I. Anatomic and histologic distribution, clinical features, and survival data of 371 patients registered in the German Multicenter Study GIT NHL 01/92. J Clin Oncol. 2001;19:3861–3873.
Quayle FJ, Lowney JK. Colorectal Lymphoma. Clin Colon Rectal Surg. 2006;19(2):49-53.
Swerdlow SH, Campo E, Harris NL, Jaffe ES, et al. WHO Classification of Tumours of Haematopoietic and Lymphoid Tissues. 4th Edition. Lyon, Fr: IARC; 2008
---
Author
2016
Rajan Dewar, MD, PhD
Surgical Pathology Committee
Department of Pathology
University of Michigan
Ann Arbor, MI 48109
---
Answer Key
Many cases of gastric marginal zone lymphoma are associated with Helicobacter pylori infections. (d)
Mantle cell lymphoma (c)
Endometriosis (b)