In Vivo Microscopy Topic Center
Pathologists are key players in the development, validation, and clinical implementation of new microscopic imaging technologies. At the forefront is In Vivo Microscopy, where microscopic images are obtained in vivo, in real- time, during clinical procedures.
In Vivo Microscopy in Detail
In Vivo Microscopy (IVM) is an exciting field where microscopic images are obtained in vivo, in real-time, during clinical procedures. IVM imaging technologies use light and rapidly produce 2D or 3D (tomographic) microscopic images. These images may be obtained using instrumentation compatible with existing standard of care clinical instruments (e.g., that can be inserted into endoscope accessory ports) or as standalone imaging tools. IVM is in clinical use in Gastroenterology, Ophthalmology, Cardiology, Dermatology, and in other clinical disciplines, including Pulmonary Medicine, Urology, Breast, and Neurosurgery.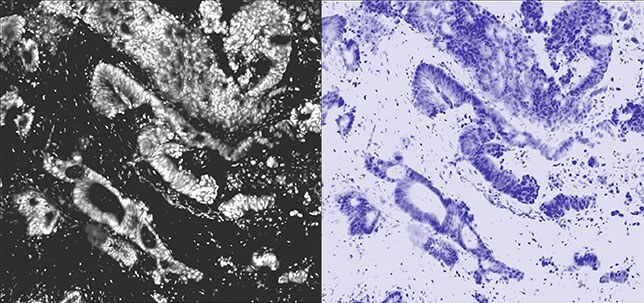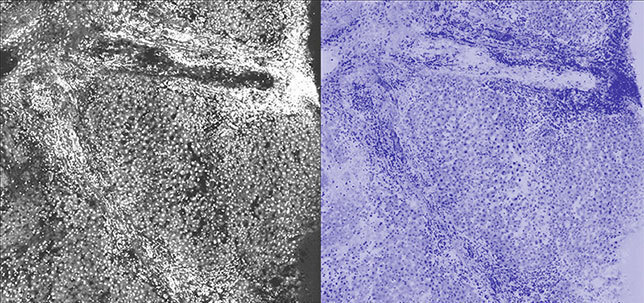 Why Pathologists are Central to IVM
Pathologists are the experts in diagnosing disease through the interpretation of diagnostic microscopic images. With the evolution of IVM technology, their expertise to properly interpret new types of microscopic images establishes a role for pathologists as interventional microscopists.
Benefits of In Vivo Microscopy
Guide biopsy site acquisition in real time to obtain targeted and diagnostically significant biopsies, as in pulmonary nodules or breast cancer
Perform comprehensive screening for occult microscopic disease, as in capsule screening for Barrett Esophagus
Obtain microscopic diagnoses when tissues cannot be easily or safely excised, as in coronary arteries, retinal screening or pulmonary fibrosis
Guide and assess the efficacy of therapy, such as in chemotherapy, laser ablation, guided surgical ablation, focused ultrasound, cryotherapy, radiofrequency, and brachytherapy
Ex Vivo Microscopy of IVM in Detail
Ex Vivo Microscopy (EVM) is the use of IVM technologies by pathologists in the ex vivo setting, without damage or destruction to the tissue. EVM imaging systems are small and portable, and can be used in virtually every pathology setting: the surgical suite, the procedure room, the grossing room, the laboratory, and the biobank. EVM creates digital images that can be viewed and interpreted remotely so the pathologist does not need to be physically present for EVM to be useful. Digital EVM images can be sent electronically to remote pathologists for consultation, and also used as digital documentation of biobank and other research tissues.
Benefits of Ex Vivo Microscopy
Evaluate small tissue biopsies for adequacy, as in breast, lymph nodes, and lung cancer biopsies.
Triage biopsy and other tissues for molecular and genomic studies, as in lung cancer
Guide the selection of tissue for frozen and permanent sections for diagnostic material
Guide tissue collection for Biobanking and other research purposes
IVM and EVM Resources
The In Vivo Microscopy Resource Guide contains a set comprehensive resources providing understanding of IVM/EVM technology and applications, plus insights from early adopters.
IVM Short Presentations on Emerging Concepts (SPECs). SPECs are available to CAP members on the following topics:

In Vivo Microscopy (IVM): A New Role for Pathologists
Collaboration Between Pathologists and Endoscopists: In Vivo Microscopy (IVM) of the GI Tract
Ex Vivo Microscopy(EVM): A New Tool for Pathologists

Educational briefs provide better understanding about emerging applications of IVM/EVM technology.
IVM Committee members are offering mini-fellowships, one to four week hands on didactic and clinical learning experience (usually an extra rotation within a fellowship). Contact the CAP if you are interested.
A new subsection of the Anatomic Pathology Checklist, which promotes best practices in both In Vivo and Ex Vivo Microscopy.
Publications and articles on various aspects of IVM and EVM technologies
Learn about the IVM Committee including committee meetings, activities and as a list of the current members.
Introduction to In Vivo Microscopy (IVM) Interpretation is a free course offered annually and designed specifically for pathologists. This course is sponsored by the CAP IVM Committee.
IVM Webinars
The IVM webinar series provides education about various applications of IVM/EVM. View the webinars section to find more details about these events and to access previous webinars.
April 19, 2018 11:00 am CT
Microscopy with UV-Surface Excitation (MUSE) for Fast, Non-Destructive, Slide-Free Pathology
Speaker: Richard M. Levenson, MD, FCAP
May 23, 2018
11:00 am CT
Justifying the Introduction of Emerging Technologies into a Pathology Department – How to Develop a Business Plan
Speaker: Wendy Wells, MD, MBBS, FCAP
July 10, 2018
11:00 AM CT
Incorporation Of In Vivo Microscopy (IVM) Into Pathology Practice
Speaker: Hany Osman, MD
April 25, 2017
11:00 am CT
Confocal Microscopy for Pigmented Lesions
Speaker: Babar Rao, MD
May 30, 2017
11:00 am CT
Creating a Successful Pathology-engineering Collaboration
Speaker: Nicholas P. Reder, MD, MPH
Sep 20, 2017
11:00 am CT
Confocal Microscopy of Non Melanocytic Lesions
Speaker: Babar K. Rao, MD, FCAP
Oct 3, 2017
11:00 am CT
Light-sheet Microscopy for 3D Pathology
Speakers: Nicholas P. Reder, MD, MPH; Lawrence True, MD
Nov 7, 2017
11:00 am CT
Rapid Examination of Fresh Tissue Using Light-sheet Microscopy
Speaker: Nicholas P. Reder, MD, MPH
Dec 5, 2017
11:00 am CT
Role of Reflectance Confocal Microscopy in Skin Inflammations
Speaker: Babar K. Rao, MD, FCAP
Get Involved With IVM Projects
Send us an email to get involved with IVM projects or request to be on our mailing list. If you are interested in being a part of the IVM Committee, apply now.
- Login and CAP Membership Required.
Contact Information
Please direct questions or comments to:
IVM Committee
ivminfo@cap.org
800-323-4040