Pathologists as Change Agents Through Informatics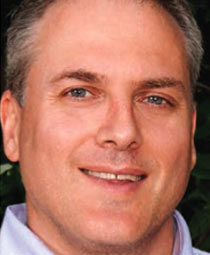 When Liron Pantanowitz, MD, FCAP, is thinking about launching a project, he asks himself three questions: (1) Is it the right thing to do? (2) Is it feasible? (3) Do others share his vision? If all three are a yes, it's a go.
He asked himself those questions before launching the Journal of Pathology Informatics, before agreeing to head up the team that drafted the CAP guidelines for validating whole slide imaging (WSI), and before becoming president of the Association for Pathology Informatics.
Action/Solution
Dr. Pantanowitz is an associate professor in the departments of pathology and bioinformatics at the University of Pittsburgh, where he is associate director of the Pathology Informatics Division, director of the Pathology Informatics Fellowship Program, director of the Fine-Needle Aspiration Clinic, and a staff pathologist specializing in cytopathology. In 2012, the Department of Pathology named him outstanding faculty research mentor; not surprising given the energy, engagement, and commitment he brings to his work.
Dr. Pantanowitz was lead author of the most recent practice guideline developed through the CAP Pathology and Laboratory Quality Center: "Validating Whole Slide Imaging (WSI) for Diagnostic Purposes in Pathology," published online in Archives of Pathology & Laboratory Medicine on May 1, 2013.
(http://www.archivesofpathology.org/doi/pdf/10.5858/arpa.2013-0093-CP)
While WSI is not yet FDA approved for primary diagnosis in the United States, Dr. Pantanowitz says, the technology has a host of other purposes, including second opinions, image analysis, education, quality assurance, archiving, and documentation. The guidelines will enable pathologists outside the United States to use WSI safely and appropriately for primary diagnosis now while giving pathologists within the US what they need to prepare for FDA approval.
For WSI and everything else, Dr. Pantanowitz says, the technology is simply a means to an end.
"The technical stuff represents just the tools to get the job done, such as computers and digital imaging," he says. "But it's the technical stuff that allows us to play ball in the same ball park as our clinical colleagues. Our responsibility now is to make sure that pathology informatics grows, that it does the right things for pathology."
One of those things, he believes, is to more efficiently link pathologists, clinicians, and patients to one another as science moves forward. Which is why one of his top priorities as a founder and coeditor- in-chief of the Journal of Pathology Informatics (www.jpathinformatics.org) was to ensure that it would be open access.
"We have built silos in health care," Dr. Pantanowitz says. "And clinicians who are using the electronic health record are currently in a different silo. Informatics gives us the tools to break down those silos."
Informatics tools provide the interoperability to bring pathologists and clinicians closer together, Dr. Pantanowitz says. "It's no longer their space and our space," he says. "It's no longer that they have their EHR and we have our LIS. We need to be in the same space; that's where the care is. That's where the data flows. That's where the patients are being treated. As pathologists and as physicians, we also need to have a presence in that space."
As do patients. This is where meaningful use comes in.
"Meaningful use is not only to ensure so- called interoperability so that everything is linked and the doctors are exchanging all health information," Dr. Pantanowitz says. "We are asking the patients to be engaged too, making it transparent, so they can look at their data, email their doctors, and contribute to their own care."
Summary
"Pathologists in informatics provide oversight and guidance for hospital data management," Dr. Pantanowitz says. "They ensure that the pathology information is accurate, reliable, accessible, and properly maintained. Pathology informatics is the key to aligning technology and business strategy with clinical needs for the future."
In short, Dr. Pantanowitz says, pathology informaticists are change agents. "We tell people, you are doing a great job but we are going to change the way you're doing it. For instance, we're now going to be digital. We're now going to be doing it electronically. You write great pathology reports, but we now want you to write them in synoptic format."
Change agents make other people's jobs difficult, he admits, but only until the benefits become apparent.
---