Clinical Cytopathology: A Noninvasive, Invaluable Service Model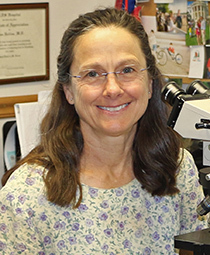 Susan D. Rollins, MD, FCAP, FIAC, says that "all bets were off" in 1991, when she decided to open a freestanding cytopathology practice in a small town in Tennessee. She had no template to follow and no referral network in place.
Twenty-eight years later, the Outpatient Cytopathology Center in Johnson City is thriving, thanks in large part to its concentrated focus on pathologist-led services that integrate clinical care and prompt reporting of test results, delivering a distinct value to patients and referring physicians alike.
Dr. Rollins and her partners, Janet F. Stastny, DO, FCAP, and Yasmin Elshenawy, MD, FCAP, each see an average of eight patients daily. The three physicians perform and interpret 2,700 fine-needle aspiration (FNA) biopsies and 700 surgical biopsies each year. Full work-up of FNA specimens is performed on site in which ultrasound-guided FNA (USFNA) is employed for nonpalpable masses. Special studies (immunocytochemical stains; flow cytometry; FISH; high-risk HPV testing; thyroid molecular studies; and mycobacterial, fungal, and bacterial cultures) are among the services provided. And more than 9 in 10 of their patients are given a preliminary diagnosis before they leave.
How is this fusion of volume and value possible?
"We make it possible," Dr. Rollins says, "because we believe—and we demonstrate—that FNA is absolutely best practiced when the pathologist is involved from the beginning to the end."
USFNA particularly comes in handy when a patient is uneasy. "I can show patients the ultrasound," Dr. Rollins says. "I can say, 'This is where the nodule is; this is where the esophagus is.' Whether I'm telling them it's cancer or explaining that it's benign, I'm providing them the essential information they want before they leave."
The patient-focused work can be intense for her and her team. "I will go home exhausted many, many days," Dr. Rollins admits, but at the same time, many patients ask for a hug when it's time to go. "Many more will say, 'Doctor, you've told me more than any other person has told me. Now I'm understanding something.'"
Early on, Dr. Rollins grew her business by finding potential referring physicians in the local telephone book and sitting down one-on-one to tell them about pathologist-provided FNA. Today, her practice sees patients referred by physicians, physician assistants, and nurse practitioners in six neighboring states; marketing is the last thing they need. "We have new doctors sending us patients," she says, "and I don't even know where they are coming from."
"I didn't really listen to anyone [about the feasibility of starting a practice]," Dr. Rollins says. "I had no expectations for volume or income; I just knew that I wanted to focus on cytopathology and FNA."
Dr. Rollins, a fellow of the International Academy of Cytology (FIAC) and a clinical associate professor in the East Tennessee State University School of Medicine Department of Pathology, has always had a hungry mind. During her pathology residency at the University of Utah, she obtained permission to do clinical medicine rotations. Soon afterward, she took a surgical pathology fellowship at LDS Hospital in Salt Lake City and a cytopathology fellowship at the St. Louis University School of Medicine.
Then, back in Utah, she heard about a pathologist in California who was doing something called fine-needle aspiration.
"It's really amazing," she told her chief, John Matteson, MD. "You see a patient; you do this; and you get your results. It's inexpensive. This just sounds wonderful."
Budgets were more flexible then, she adds ruefully; she was allowed to travel to California to learn the FNA (and later, core needle biopsy) technique under John Abele, MD, FCAP, an outpatient FNA pioneer in Sacramento. Dr. Abele has been a definitive mentor, Dr. Rollins says; he modeled the critical clinical skills that cannot be taught. He also insisted that she take a cytopathology fellowship under Torsten Lowhagen, MD, at the Karolinska Hospital in Stockholm, Sweden.
Dr. Lowhagen had built a practice that he called clinical cytopathology, integrating patient history, physical examination, and cytology findings. His fellows learned to appreciate the value of the patient encounter because, he would say, while they could always refer back to the slides, "You can never recapture the time with a patient."
Years later, Dr. Rollins' husband decided to leave medicine, which meant that she lost his expertise as her radiologist (although he did continue as her IT consultant). He suggested that she buy an ultrasound machine and perform her own needle guidance, emulating what she had watched him do countless times. "It's not rocket science," he said. So she did.
In 2009, Dr. Rollins was one of four FNA pioneers who worked with the College of American Pathologists (CAP) Learning team to create the USFNA Advanced Practical Pathology Program (AP3), which has become a popular starting point for pathologists looking to expand their practices by offering noninvasive, integrated, on-site testing of superficial lesions. Any practice with a member who has an interest in FNA should offer the service, Dr. Rollins believes. "I'm not a great cytopathologist, but when you can combine all the clinical information, the ultrasound and microscopic information, I become really good at that point," she grins. Moreover, she can integrate clinical and laboratory findings in a way that a reference laboratory cannot.
While the new molecular tests are terrific, they're often overutilized, Dr. Rollins says. Her practice refers only about 2% of its thyroid biopsies for molecular testing. "There may be reasons to do molecular testing; and in some cases, we'll strongly suggest it," Dr. Rollins says. "But it's expensive, and in most cases you don't need to."
As the practice grows, a fine-tuned laboratory information system, engineered by her multitalented husband, makes it possible for the CAP Laboratory Accreditation Program inspection teams to be in and out before lunch. Staff turnover is minimal; Dr. Stastny joined the practice in 1999, and the office manager has served the group for 18 years. "Dr. Elshenawy has been with us for three years," Dr. Rollins says. "Hopefully this is home for her and her career."
A journal article1 that Dr. Rollins published last year and video on the practice website reveal the value that spurs continued practice growth. The video shows an office visit in which a pediatric patient with a thyroid mass undergoes an ultrasound-guided FNA biopsy. Dr. Rollins draws the aspirate while the staff and her mom softly sing "Old MacDonald Had a Farm." She then makes the slides and examines them under the microscope. Anyone who watches the video and isn't relieved to hear Dr. Rollins whisper to herself, "Good—it's benign," must have a heart like the Grinch—three sizes too small.
Dr. Rollins offers some closing advice to those keen to build out their practice and incorporate FNA: "Keep your overhead down, keep your employees happy, keep them long term. We have control of our practice and our lives. We all make a good living, we have an excellent work environment, and we serve our patients well. The practice is a mission of service, not just an economic enterprise."
---
1. Rollins SD. Pathologist ultrasound-guided fine-needle aspiration: take the plunge and reap the benefits! AJSP: Reviews & Reports. 2015;20(5):230—234. doi:10.1097/PCR.0000000000000110.
---