2019 CAP Distinguished Service Award
This award, established in 1965 (and amended in 2006), recognizes episodic, sustained, or cumulative contributions to the practice of pathology and to the College of American Pathologists that are sufficiently notable and extraordinary to set the nominee apart from his or her peers. Nominees must be CAP members.
Gerald A. Hoeltge, MD, FCAP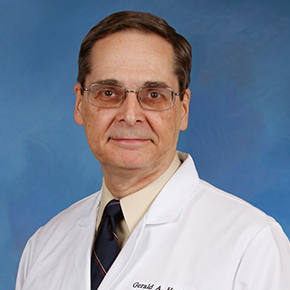 The College of American Pathologists presents Gerald A. Hoeltge, MD, FCAP, with the 2019 CAP Distinguished Service Award in recognition of his long history of exceptional service in many areas of the CAP, carrying out the roles of leader, mentor, member, chair, and advisor to numerous committees, task forces, and work groups.

His tenure dates to the late 1970s and early 1980s, when he served as a CAP laboratory accreditation inspector, Ohio state commissioner, deputy regional commissioner for the Great Lakes region, and regional commissioner for the same area. In addition to his active role in the inspection processes, he served on several scientific resource committees, including the Cytogenetics Committee and the Environmental Health and Safety Resource Committee.
Most of Dr. Hoeltge's time at the CAP has been with the Laboratory Accreditation Program. He has been a member or chair of numerous member groups, including the Council on Accreditation, Commission on Laboratory Accreditation, Complaints Committee, Checklists Committee, and Safety Committee.
Dr. Hoeltge regularly took part in many cross-committee checklist-related project teams and work groups, including efforts focused on the individualized quality control program, next-generation sequencing, and biorepositories. With each of these teams, Dr. Hoeltge and others were instrumental in authoring checklist requirements in response to changing technology and regulatory requirements.
Dr. Hoeltge served in the role of special commissioner for both the complaints and checklists committees. He was the first chair of the Complaints Committee when the committee was introduced in 2006. Currently, Dr. Hoeltge is serving as the editor for the Laboratory Accreditation Manual revision project under the laboratory onboarding improvement effort.
---
Dr. Hoeltge is retired from the Robert J. Tomsich Pathology and Laboratory Medicine Institute at the Cleveland Clinic in Cleveland, Ohio.