2019 CAP Distinguished Patient Care Award
Established in 2006, the CAP Distinguished Patient Care Award recognizes and honors a member of the College of American Pathologists who has made an outstanding contribution to patient care. It represents behavior that, when emulated, enhances the practice of pathology. In addition, this award reflects the mission, vision, and values of the CAP. The CAP presents the award when merited, not necessarily on an annual basis.
Marilyn M. Bui, MD, PhD, FCAP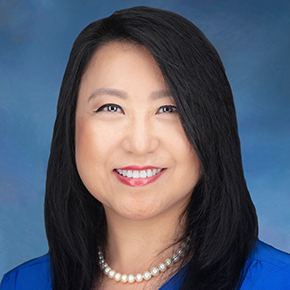 The College of American Pathologists honors Marilyn M. Bui, MD, PhD, FCAP, with the 2019 CAP Distinguished Patient Care Award in recognition of her dedicated contributions to improve patient care and strengthen the specialty of pathology. Through her work as creator and co-editor of the book The Healing Art of Pathology, published by the CAP Press in 2016, Dr. Bui produced a groundbreaking publication that portrays the essence of the specialty and its impact on patient care. Through this effort, Dr. Bui lobbies for better appreciation of pathology and its practitioners, who contribute to the highest quality patient care through their work. Using personal outreach, Dr. Bui continues to promote the image of pathologists in her national and international speaking engagements.

Dr. Bui further advances the specialty through her work as chair of the CAP's Expert Panel of the Quantitative Image Analysis (QIA) Project, which produced new guidelines to improve the accuracy, precision, and reproducibility of breast cancer HER2 IHC QIA interpretation and reporting. These recently published guidelines have generated a positive response from the medical and scientific community. Dr. Bui has also contributed to other practice guidelines by the CAP and other professional societies.
Dr. Bui has a long history as a passionate and dedicated advocate for pathology, pathologists, and laboratory professionals. She communicates this message to patients, colleagues, and the public, leveraging research, education, advocacy, and service with the goal of providing the best possible patient care. As her involvement demonstrates, Dr. Bui sees service to professional committees and societies as an important mechanism to positively influence the policies and standards governing the quality of patient care in a broader sense. She credits her early involvement with the CAP—in residency as a Residents Forum member and subsequently as Junior Member representative of the Cell Markers Committee—as an important stepping-stone to a productive professional life.
---
Dr. Bui is the president of medical staff, scientific director of Analytic Microscopy Core and section head of Bone and Soft Tissue Pathology at Moffitt Cancer Center, as well as professor and director of Cytopathology Fellowship at Morsani College of Medicine at the University of South Florida in Tampa.