2018 CAP Staff Outstanding Achievement Award
The CAP established the CAP Staff Outstanding Achievement Award in 2015 to recognize employees whose contributions during their career have greatly impacted and supported the growth and improvement of the College of American Pathologists, including its staff, its members, and the patients.

Bryce Gilmore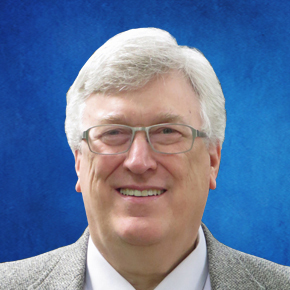 The College of American Pathologists presents Bryce Gilmore with the CAP Staff Outstanding Achievement Award in recognition of his exceptional and outstanding performance.
Mr. Gilmore joined the CAP's staff in 1976 and has spent his entire career of more than 40 years here. He currently serves as an enterprise architect in the Information Services (IS) division.
In the late 1980s, he used his detailed understanding of survey data to analyze the CAP's proficiency testing (PT) data for impact assessments that contributed to the CAP's congressional testimony on the (then) proposed CLIA regulations. He also worked in database administration, ensuring that data/analytic quality met the highest standards. In the 1990s, Mr. Gilmore managed the implementation of changes to the CAP's systems to bring them into compliance with CLIA regulations. Due to his deep knowledge of CAP offerings, Mr. Gilmore was involved in implementing a new generation of financial systems and in developing the SCORES system, which supports both the accreditation and PT programs.
Mr. Gilmore leveraged his expertise throughout the Enterprise Platform Program initiative (2008–2014) and with the initial 2010 system supporting PT data submission automation. He participated in the Informatics Committee and Information Services and Technology Committee. Mr. Gilmore continues to be a sought-after resource, particularly for Council on Scientific Affairs committees, aiding in a multitude of areas such as next-generation sequencing PT and digital imaging.
Today, Mr. Gilmore is central to projects upgrading many of these capabilities and finding new technology solutions to replace aging systems. He is working collaboratively on newer initiatives, including the Performance Analytics Dashboard and the next-generation of automated PT data submission. He also was the principal technical resource in developing the various IS investment scenarios discussed with the Board of Governors.
Highly valued on his team today, Mr. Gilmore has a long history of significant contribution to pathology, clinical laboratory quality, and the CAP's organizational success.