2018 CAP Outstanding Communicator Award
The CAP Outstanding Communicator Award honors William L. Kuehn, PhD, and recognizes outstanding communication contributions strengthening the image of pathology.

Jerad Michael Gardner, MD, FCAP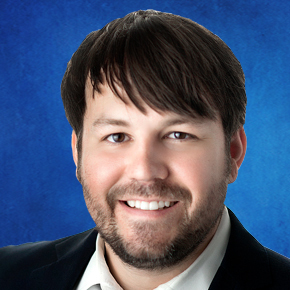 The College of American Pathologists honors Jerad Michael Gardner, MD, FCAP, with the CAP Outstanding Communicator Award to recognize his unique and effective use of social media to educate learners near and far.
Dr. Gardner educates via Facebook (19,700 followers), Twitter (15,200 followers), Instagram (33,500 followers), and YouTube (5,300 subscribers; 200,000+ views). He shares microscopic images of diseases with explanations, diagnostic clues, and/or links to peer-reviewed literature. He uses quiz-style unknown cases to engage his learners, releasing the answer the next day, sometimes via an explanatory YouTube video. He created Facebook discussion groups for his subspecialties of dermatopathology (28,000 members) and soft tissue pathology (19,000 members).
Dr. Gardner educates doctors globally and helps them online with difficult cases, particularly from the developing world. He volunteers in multiple Facebook patient support groups for sarcoma, educating patients about their rare cancers so they can better understand their disease and interact with their own doctors. Dr. Gardner uses Twitter to "live tweet" knowledge from pathology meetings to update nonattendees. Because of this, he has chaired social media subcommittees for the United States and Canadian Academy of Pathology and the American Society of Dermatopathology for the past three years and administered their official Facebook and Twitter accounts.
Dr. Gardner was appointed as a deputy editor-in-chief of the CAP's Archives of Pathology & Laboratory Medicine, so he could create and oversee its social media accounts. He also co-founded a monthly pathology Twitter journal club to discuss peer-reviewed articles live online (over 1,000 participants in 1.5 years); @path_JC has been recognized by PubMed Commons. He was also featured on BuzzFeed.com and THV11 News for using Snapchat to teach medical students. In 2016, he surveyed his online learners to evaluate his social media teaching and give feedback: 1,110 responded from 88 countries in 4.5 days. They rated his social media teaching as excellent or good (99%), and 85% of physician respondents (681/762) agreed that his social media educational posts helped them to better diagnose or care for their own patients in real life.
---
Dr. Gardner serves as associate professor of pathology and dermatology at the University of Arkansas for Medical Sciences in Little Rock.