2017 CAP Pathology Advancement Award
The CAP established the CAP Pathology Advancement Award in 2013 to recognize a person or team who demonstrates components of foresight, resolve, and untiring commitment to both evolutionary and revolutionary undertakings that advance the positioning of the pathologist in the House of Medicine and the delivery of safer patient care. It recognizes efforts that are neither easy nor obvious, and the recipient will often be a change agent.

John Robert Srigley, MD, FCAP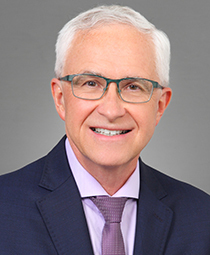 The College of American Pathologists presents John Robert Srigley, MD, FCAP, with the 2017 CAP Pathology Advancement Award in recognition of his professional achievements that have changed the landscape of cancer care in Canada and around the world. Dr. Srigley's commitment to research, education, and international collaboration and standardization in laboratory medicine and pathology have led to innovative structured reporting systems that provide oncologists and surgeons with better pathology data upon which to make their treatment decisions. His contributions and leadership are most notably seen in urological pathology, cancer medicine, and quality patient safety systems. His work in urological pathology includes more than 200 peer-reviewed publications, three textbooks, and numerous chapters related to urological pathology topics.
He has spent most of his career promoting the role of pathologists in cancer medicine and cancer control. Dr. Srigley served as inaugural chair of the Pathology and Laboratory Medicine Program at Cancer Care Ontario (2004–2013) and is currently the expert lead for pathology at the Canadian Partnership Against Cancer (CPAC) and chair of the Cancer Advisory Committee of the Canadian Association of Pathologists (CAP-APC). Under his guidance, six Canadian provinces have created and implemented systemic changes in their diagnostic cancer reporting protocols using the CAP cancer checklists. He has also led the development of the Pan-Canadian Recommendations for Interpretive Pathology.
Dr. Srigley is a co-founder and vice president of the International Collaboration on Cancer Reporting and a member of the American Joint Committee on Cancer. His CAP involvement has included serving on the Surgical Pathology Committee (1990–1998) where he was involved in the development for the performance improvement program (PIP) for surgical pathology and, more recently, in the development of the Advanced Practical Pathology Program in prostate pathology (2008–2014). Dr. Srigley's most significant contributions to the CAP have been in the field of cancer pathology. He has been involved with the CAP's Cancer Committee for 18 years, including six years as a member, six years as the in-bound liaison from Cancer Care Ontario, and six years as the in-bound liaison from the CAP-APC and the CPAC.
---
Dr. Srigley currently serves as chief and medical director of the laboratory medicine and genetics program at Trillium Health Partners in Toronto. He is also a professor of laboratory medicine and pathobiology at the University of Toronto.