2017 CAP Outstanding Service Award
Originally established in 1977 in honor of Frank W. Hartman, MD, FCAP, the first president of the College of American Pathologists, the CAP Outstanding Service Award recognizes a fellow of the CAP for outstanding service to a single CAP program, project, or related endeavor, generally over a long period of time. The CAP presents this award when merited, not necessarily on an annual basis.

Suzanne Zein-Eldin Powell, MD, FCAP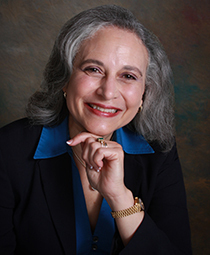 The College of American Pathologists presents Suzanne Zein-Eldin Powell, MD, FCAP, with the 2017 CAP Outstanding Service Award in recognition of her leadership, expertise, and contributions in elevating, influencing, and addressing the learning needs of CAP members in residency training and when new in practice.
As a Graduate Medical Education Committee (GMEC) member (2006–2012) and chair (2013–2016), Dr. Powell led the CAP's efforts to ensure that residency training prepares pathologists for practice. During her tenure with the GMEC, Dr. Powell published papers in Archives of Pathology & Laboratory Medicine (Archives) that address preparation for practice; she monitored the job market for newly trained pathologists and presented job market data and search tips to the Residents Forum. She also led development of a strategy for supporting residency program adoption of the informatics curriculum for residents.
Dr. Powell has also sponsored multiple workshops and contributed research that has been accepted for Archives that prompted discussion regarding professionalism. While serving as GMEC chair, Dr. Powell also served on the CAP Policy Round Table Workforce Project Team to provide her expertise regarding residency pathology training. She has also served on the Council on Education and the Learning Portfolio Subcommittee, ensuring the CAP offers the most robust portfolio of education programs valued by members.
---
Dr. Powell serves as a professor of pathology at Weill Cornell School of Medicine, vice chair at Baylor College of Medicine, and endowed chair for education at Texas A&M University College of Medicine.