2017 CAP Outstanding Communicator Award
The CAP Outstanding Communicator Award honors William L. Kuehn, PhD, and recognizes outstanding communication contributions strengthening the image of pathology.

Crystal A. Moore, MD, PhD, FCAP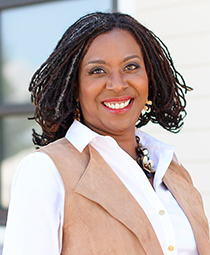 The College of American Pathologists presents Crystal A. Moore, MD, PhD, FCAP, with the 2017 CAP Outstanding Communicator Award, recognizing her as the epitome of an effective communicator. She has a clear message of health and wellness, is passionate about her career, and is easily relatable to her many audiences. Dr. Moore has authored and been quoted as an expert in numerous articles and appeared on TV and other media sources, including Forbes Online, USA Today, MSN, Reader's Digest, Prevention Magazine, Jet, Uptown Magazine, The Huffington Post, and Black Enterprise. Answering the epidemic of physician burnout, her personal story of trouble and triumph was shared in PracticeLink magazine.
Dr. Moore is extremely active on social media, including on Twitter, @DrCrystalAMoore, where she tweets with patients, physicians, and researchers to share the unique perspective of a pathologist. Overall, her total internet reach is upwards of 78.7 million. Her humility and willingness to share her personal story are rare qualities that make her a powerful communicator, one whose passion and drive is to help people be their healthiest. Among the most active pathologists in the CAP's Engaged Leaders Network, she has not only worked with the media and the community but has also worked one-on-one with her colleagues to help them become better communicators and advocates for the profession. Dr. Moore maintains her own website where physicians and their patients receive advice for wellness in body, mind, soul, and spirit.
---
Dr. Moore serves as a staff pathologist at the Hampton Veteran Affairs Medical Center. She is also a clinical laboratory improvement amendments director of several private laboratories in the Hampton Roads and Richmond areas of Virginia and a principal investigator on a National Institutes of Health cancer research grant entitled Genomic Biomarkers Associated with Aggressive Prostate Cancer in African Americans. Dr. Moore serves on the CAP Professional and Community Engagement Committee, and she is a faculty member of the CAP's Engaged Leadership Academy and a team leader for the CAP's Laboratory Accreditation Program.