Set Up for Success: Workspace Décor and Organization
Your office not only reflects and says something about who you are; it also reflects your group and your profession. Think about what message you would like to convey whenever someone steps into your work space and use the suggestions below to help get your office to that desired state.
Begin by Un-boxing
Setting up and decorating your office space shouldn't be the first thing you do when you arrive at your new job. Still, it also shouldn't wait so long that people start wondering whether you're staying. Unpacked boxes give your office an untidy aura. They may unintentionally send the message you regard this position as temporary and are prepared to move on at any moment. Even if you only receive an occasional visitor, pathology staff, environmental services, or mail delivery personnel, everyone compares your surroundings with those of other in-house physicians. The look and feel of the office is often underappreciated.
Consider Your Wall Hangings
Framing and displaying your degrees and awards might feel egotistical, but if patients, trainees, or clinical colleagues visit, they judge what they see. Visible credentials or accomplishments may help form a positive impression from the start. It's also a way to remind yourself that you belong in your position whenever imposter syndrome strikes. You spent a lot of time, effort, and money on your education, so why hide those certificates in a basement box?

If family is important to you, include photos of milestone family events or scribbles from the kids. Art and professional photographs are perfectly acceptable to decorate your walls. It may be helpful to look around and visit your colleagues' offices to collect more wall décor ideas. Framed photos of pathology cases can be interesting and a conversation starter. You could solicit photography done by clinical staff or colleagues if you find out someone has a hobby—they may be honored to have one of their works on display in the work environment. Other wall options include cork boards, whiteboards, magnetic boards, or some very modern and high-end glass boards.

Avoid Desk Clutter
A messy and disorganized desk says, "I'm overworked as it is! Don't spend too much time in here! I'd rather you didn't bother me!" While it's perfectly normal to have a pile or two of active cases or a stash of slides for ongoing research studies, you don't want to become the department slide hoarder. Not only does hoarding slides in your office negatively impact patient care when others need the slides for send-out consultation, morphologic comparison, or additional testing, it can also create inefficiencies in your day and in your group, as there may be interruptions by email, phone, or in-person interruptions for you when someone is looking for those missing slides. Try to keep your desk and room organized but not sterile.
Gather Books and Knick Knacks
Displaying some physical books provides the office with an air of authority. There are a few pathology art books out there, and coffee table art/architecture books, favorite novels, or other non-medical books can showcase your other interests and generate discussion with visitors. Having a few unique knick-knacks or personal items can also prompt conversation or make connections. These could be objects that commemorate important life events or travel destinations or things that are fun to fiddle with, like magnetic sculptures, puzzles, anatomy holograms, etc. Certain showpiece items like the floating light bulb by Flyte are practically irresistible to people and beg the question, "How does that work?"
Furnish for Functionality
Furniture should be inviting and functional. A double-headed microscope can convey that you are open to teaching and meeting in your office. If a double-headed scope isn't an option, you can get equipped for a live view to an extra monitor, so colleagues and patients can see the slides, whether glass or digital. Just make sure your microscope and monitors don't wall you off and block conversation with visitors. Enlist a cable organizer to help you avoid a rats' nest of wires. If you have a large enough office, consider adding a side table and a couple chairs for a more conversational meeting option as opposed to you stationed behind your desk. Adding a lamp can add some warmth and hominess, if so desired.
Keep Refreshments on Hand
If a break room is not readily available, stocking snacks and soda or water for visitors conveys a strong, welcoming message. You may opt for a small dorm-style refrigerator, or just a jar or two of snacks to share—candy, cookies, nuts, etc. If you're a coffee lover with a Keurig machine, keep a couple of extra mugs for guests. And speaking of the ubiquitous coffee mug, is there any subliminal, or obvious, message you want to send there? Coffee mugs are also a fun way to show some personality.
Bring the Outside In
Do you enjoy nature or have a green thumb? Flowers and plants, particularly low maintenance choices such as succulents or air plants that don't need much water, can help liven up any space. Those without windows could consider wall hangings of the outdoors or even a faux window complete with curtains and a background image that changes with the seasons. For those who suffer from seasonal affective disorder, investing in a light therapy lamp could lift your mood in the winter.
Display Availability on Your Door
What about your office door? Do you want to keep your office door open or closed? Consider posting notes or signs on your door regarding your hours or where you can be reached if out of the office. Some folks use a Velcro dot and laminated cards to let people know when they are not to be disturbed or are away. Is it clear how someone can leave a message for you?
Your work space is a reflection of you and communicates quite a bit, whether you and everyone else realizes it. It's also where you'll be spending a good amount of your time. So, make the most of your (work) home away from home, and have some fun making it your own!
---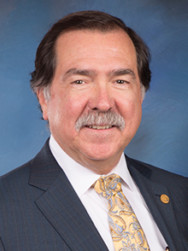 Eric F. Glassy, MD, FCAP is a community pathologist in Los Angeles and a member of Affiliated Pathologists Medical Group, a 40 person independent pathology group. He is a Governor of the CAP and a Trustee of the American Board of Pathology. His interests include digital pathology, informatics, and graphic design.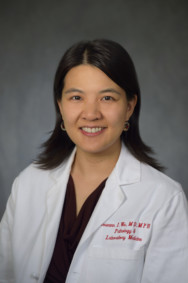 Roseann I. Wu, MD, MPH, FCAP, is a staff pathologist and assistant professor of clinical pathology & laboratory medicine at the Perelman School of Medicine/University of Pennsylvania Health System in Philadelphia. She has clinical and educational responsibilities in cytopathology, breast and pulmonary surgical pathology, and medical pathology. Her interests include fine-needle aspiration, organized pathology, and innovative ways to deliver pathology education.