October 29, 2019
In This Issue:
CAP Members Push Lawmakers on Solution to Surprise Medical Bills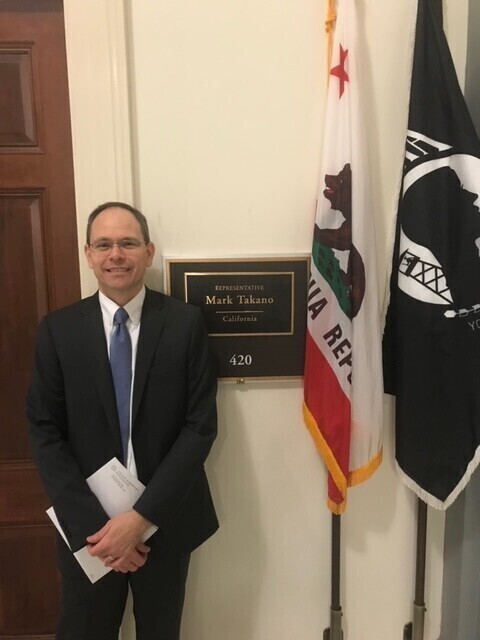 CAP members on October 28 and 29 met with congressional offices and urged them to back a fair payment formula and arbitration process when physicians' services are unexpectedly provided out of network to patients.
CAP members Matthew Foster, MD, FCAP, of Virginia, and Derek Marsee MD, PhD, FCAP, of California, met with their federal representatives to discuss the CAP's position to the surprise medical bill problem.
Drs. Foster and Marsee, who are also presidents of their respective state pathology societies, discussed how legislation should include provisions for a fair payment formula and alternative dispute resolution between physicians and insurers while removing patients from disagreements on payment.
In addition, the CAP asks Congress to require network adequacy standards for health insurers as part of the holistic solution to address the problem of surprise billing. The root cause of a surprise medical bill is a health insurance plan with an insufficient provider network.
Speak Out on Surprise Medical Bills
The CAP has urged all pathologists to contact their representatives and ask them to cosponsor the Protecting People from Surprise Bills Act, HR 3502, which has been introduced by Reps. Raul Ruiz, MD (D-CA) and Phil Roe, MD (R-TN). CAP members can easily communicate with Congress on this important issue through our grassroots action network, PathNET, which is available for you to contact your federal legislators. Recently, the Ruiz-Roe legislation gained its 100th cosponsor in the House.
CMS to Release Final 2020 - What You Need To Know For Your Practice
The Centers for Medicare & Medicaid Services (CMS) will soon publish the final 2020 Medicare Physician Fee Schedule and Quality Payment Program regulations, which will affect reimbursement for your services to patients during the next year and beyond. The CAP will be the first to provide you with an initial analysis after the release of the regulations. We will also discuss the various impacts on your practice and payments with an expert interactive webinar review.
What you can expect from the CAP?
Exclusive Special Report – The CAP will report on the final regulation just hours after the CMS releases it is with an exclusive initial analysis. This Special Advocacy Update will be emailed to all CAP members and published on social media channels.
Impact Table – Within the Special Advocacy Update, the CAP will list all pathology services and show the payment differences between the 2019 and 2020 physician fee schedules.
An Interactive Webinar – On November 8 at 1 PM ET, the CAP will host a live webinar where experts will review the final regulation changes that impact your pay and pathologists' participation in the Merit-based Incentive Payment System (MIPS). Our experts will also answer your questions.
Webinar presenters will be the Chair of the CAP Council on Government and Professional Affairs Jonathan Myles, MD, FCAP; Chair of the CAP Measures & Performance Assessment Subcommittee Diana Cardona, MD, FCAP; and Chair of the CAP Economic Affairs Committee W. Stephen Black-Schaffer MD, FCAP.
Register today for the webinar.
Last Chance to Test Your October Advocacy News Quiz!
This is the last week to try your advocacy luck and take the October Advocacy News Quiz. See how your scores compare to your fellow CAP members and share on social media.
Over 100 of your fellow CAP members have already tested their advocacy knowledge for October. See how you stack up against your fellow pathologists on this month's quiz and share your results. It's easy, so good luck!