November 14, 2017
In This Issue:
The CAP Garners More Energy on LCD Clarification Act
To increase transparency and accountability in Medicare's local coverage process, Congress re-introduced the Local Coverage Determination Clarification Act of 2017 in the Senate and House. The LCD bill continues to gain momentum and make strides in both the House and Senate with the total of 24 members of the House and 14 senators to sponsor the bill.
Below is the list of Representatives and Senators who have co-sponsored the bill so far:
House Co-Sponsors
Rep. Lynn Jenkins (R-KS)*
Rep. Ron Kind (D-WI)*
Rep. Patrick Meehan (R-PA)
Rep. Pete Sessions (R-TX)
Rep. Joseph Crowley (D-NY)
Rep. Markwayne Mullin (R-OK)
Rep. Collin C.Peterson (D-MN)
Rep. Kenny Marchant (R-TX)
Rep. Eliot Engel (D-NY)
Rep. Fred Upton (R-MI)
Rep. Terri A. Sewell (D-AL)
Rep. Seth Moulton (D-MA)
Rep. Paul Tonko (D-NY)
Rep. David Loebsack (D-IA)
Rep. Bobby L. Rush (D-IL)
Rep. Janice D. Schakowsky (D-IL)
Rep. David P. Roe (R-TN)
Rep. Steve Stivers (R-OH)
Rep. Earl Blumenauer (D-OR)
Rep. Diana DeGette (D-CO)
Rep. Brendan F. Boyle. (D-PA)
Rep. Gus M. Bilirakis (R-FL)
Rep. Ryan A. Costello (R-PA)
Rep. Austin Scott (R-GA)
Senate Co-Sponsors
Sen. Johnny Isakson (R-GA)*
Sen. Thomas R. Carper (D-DE)*
Sen. John Boozman (R-AR)*
Sen. Debbie Stabenow (D-MI)*
Sen. Pat Roberts (R-KS)
Sen. Chuck Grassley (R-IA)
Sen. Roger F. Wicker (R-MS)
Sen. Tammy Duckworth (D-IL)
Sen. Jerry Moran (R-KS)
Sen. Mike Rounds (R-SD)
Sen. Gary C. Peters (D-MI)
Sen. John Thune (R-SD)
Sen. Jeane Shaheen (D-NH)
Sen. Christopher Coons (D-DE)
* Original co-sponsors
The Senate bill, together with the House version of the bill, will pave the way for much needed LCD reform. The CAP continues to work and advocate for its members by helping to improve transparency and accountability when Medicare contractors set local coverage determination (LCD) policies for physician services provided to Medicare beneficiaries. This legislation would make significant improvements to the LCD process and ensure that medical evidence is not used selectively to deny appropriate coverage to Medicare beneficiaries.
Key provisions of both the Senate and House LCD bills include:
Open Meetings
Upfront Disclosure
Meaningful Reconsideration and Options for Appeal
Stopping the use of LCDs as a backdoor to National Coverage Determinations (NCDs)
Recently, the CAP, along with coalition members the Advanced Medical Technology Association, and the Amputee Coalition, hosted a standing room only Hill briefing that help reinforce the need to modernize Medicare's process for establishing local coverage policy for life-saving and life-enhancing health care services and technologies. Stephen Black-Schaffer, MD, FCAP, and Chair of the CAP Economic Affairs Committee, spoke about how crucial physician input is to the LCD process.
Stay tuned to STATLINE for more details.
President Trump Nominates Former Bush Administration Official for HHS Secretary
Alex Azar, a former pharmaceutical executive and George W. Bush administration official, was nominated for secretary of the Department of Health and Human Services (HHS) by President Donald Trump on November 13. Mr. Azar would fill the top position at HHS vacated in late September by former Rep. Tom Price, MD, who resigned in September.
Mr. Azar is a HHS veteran, having previously served as deputy secretary and general counsel between 2001 and 2007. Until January 2017, he was the president of Lilly USA, an affiliate of global biopharmaceutical manufacturer Eli Lilly & Co. His nomination for HHS secretary must first be considered by the Senate for confirmation before he can take office.
Stay tuned to future editions of STATLINE for more updates on the Trump administration.
Avoid the MIPS Penalty and Get a Bonus—the CAP Can Help
In 2017, the CAP and its partner, FIGmd, are offering pathologists free access to Quality and Improvement Activities reporting for Medicare's Merit-based Incentive Payment System (MIPS), helping you to aim for the full bonus.
Most practices continue to report on quality measures via claims, just as they did under the former Physician Quality Reporting System (PQRS).
But did you know, under MIPS, quality only represents 85% of your score for pathologists? The other 15% is based on affirming that you do certain quality improvement activities in your practice. The CAP has identified the 13 Improvement Activities that are most pertinent to pathologists. This will help you save time, so you don't need to review the full list of 92 activities published by the Centers for Medicare & Medicaid Services (CMS).
For 2017, the CMS is simply asking those non-patient-facing physicians to attest to one high or two medium improvement activities.
Whether you just need to attest to the improvement activities to get the full bonus or you need a solution to help you report on both improvement activities and quality measures, the CAP has you covered.
With the 2017 MIPS Reporting Solution, pathologists can fully meet program requirements.
If you currently report quality measures through billing or other ways: Increase your bonus potential by attesting for the improvement activities.
If you have not decided how to report for MIPS 2017: Report on quality measures for a 90-day period—or a full year of patients—and attest to improvement activities to increase your payment potential and, at a minimum, avoid a payment penalty.
The 2017 MIPS Reporting Solution includes eight pathology-specific quality measures developed by the CAP and all 92 improvement activities included in the MIPS program.
Contact CAP registry staff if you have questions about the 2017 reporting option.
The CAP and its partner, FIGmd, are offering pathologists free access to the 2017 MIPS Reporting Solution to aim for a full bonus in MIPS.
Pathologists can use the 2017 MIPS Reporting Solution to maximize their opportunity to increase their Medicare payment. There is no cost to report with the 2017 MIPS Reporting Solution.
CMS Webinar on Virtual Groups
The CMS recently released its requirements for the 2018 Quality Payment Program. To help pathologists understand with the new virtual group option, the CAP recommends that members check out the upcoming CMS webinar on Virtual Groups.
In 2018, solo practitioners and groups can choose to participate in MIPS as a virtual group. To form a virtual group for 2018, solo practitioners and groups must follow an election process and submit their election to the CMS by December 31, 2017.
As outlined in the Quality Payment Year 2 Final Rule, a virtual group is a combination of two or more taxpayer identification numbers (TINs) made up of one or more solo practitioners or one or more groups consisting of 10 or clinicians (including at least one MIPS-eligible clinician), or both, that elect to form a virtual group for a performance period for a year.
To be eligible to join a virtual group, you must be a:
Solo practitioner who exceeds the low-volume threshold and who is not a newly Medicare-enrolled eligible clinician, a qualifying APM participant (QP), or a partial QP choosing not to participate in MIPS.
Group that exceeds the low-volume threshold at the group level (that is, the NPIs within the TIN collectively exceed the low-volume threshold) and has 10 or fewer clinicians (including at least one MIPS-eligible clinician).
The CMS will host a webinar on Tuesday, November 21, at 1:00 PM ET to provide an overview of Virtual Groups and reporting requirements. Register here to attend the webinar.
Learn more about all of the new regulations and program updates that will affect pathologists during the 2018 Medicare Quality Payment Program Impact on Pathologists Webinar on November 29 at 1:00 PM ET.
In Focus: Laboratory Tour with Rep. Pete Sessions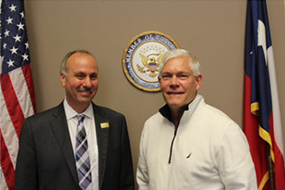 Congressman Pete Sessions (R-TX) knows pathology. He is not a physician, nor does he sit on a congressional committee that requires an understanding of health care. Rather, his understanding of the work pathologists does come from meeting with his constituents—in particular, Joe Saad, MD, FCAP, chair of the CAP's Federal and State Affairs Committee. For several years, Dr. Saad built a relationship with Representative Sessions and has hosted the congressman for a laboratory tour in October at Methodist Richardson Medical Center in Dallas, Texas.
This is Rep. Sessions' third laboratory tour with Dr. Saad, beginning in 2008; and they have continued to meet multiple times both in the congressman's district office in Dallas and in Washington, DC. This most recent tour gave Rep. Sessions an opportunity to talk with medical staff at Methodist and to see the laboratory.
"Rep. Sessions was very interested and engaged,"" said Dr. Saad. "We discussed a wide range of issues, including MACRA, insurance networks, the opioid crisis, and the important role of pathologists in the health care system. The laboratory tour focused on transfusion medicine and blood utilization, clinical chemistry and surgical pathology. We spent quite a bit of time discussing how we work up complex cases and why we order additional stains as a segue into discussing Medicare Administrative Contractors and local coverage determinations."
The tour was also an opportunity to thank Rep. Sessions for cosponsoring the Local Coverage Determination Clarification Act, which is legislation to reform the flawed local coverage determination (LCD) process. Rep. Sessions agreed to support the bill after Dr. Saad informed him about the negative impact LCDs are having on pathologists' ability to perform tests and provide accurate diagnoses for Medicare patients.
"Laboratory tours are the best way to educate a member of Congress on the role of pathology in delivering quality health care. We get to show off our laboratory and our team. The legislator receives a hands-on experience and comes away with a better understanding of how their policy decisions impact our ability to do our job," said Dr. Saad. Developing that understanding is key to ensuring that legislators take positions that positively affecting pathology. "It's helpful to be able to demonstrate the practical impact of policies on our day-to-day practice. The stronger your relationship is with your legislator, the more you become a source for expert opinions or advice."
According to the Congressional Management Foundation, 95% of congressional offices rate site visits—such as laboratory tours—as important for a member of Congress when they are traveling around the district. If you have not yet done so, please consider hosting a laboratory tour this year for one of your legislators.
The CAP has plenty of resources to help you plan your tour, including a short five-minute video, a one-hour webinar, and a downloadable planning guide with letter templates and sample itineraries. For more information and to access these resources, visit cap.org, or contact Laura Brigandi at 202-354-7128 or lbrigan@cap.org with any questions.
Upcoming Webinar: The 2018 Medicare Quality Payment Program Impact on Pathologists Webinar
Wednesday, November 29, 2017
12:00 PM CT
As the CMS has now finalized rules for the 2018 Quality Payment Program, learn how you can prepare and plan for next year's MIPS performance period.
In 2018, most pathologists will need to take action to stop penalties from reducing future Medicare payments for their services and nearly all pathologists will be required to participate in MIPS.
On November 29, the CAP will host a 60-minute webinar to discuss 2018 options for preventing Medicare penalties and, in certain cases, increase reimbursements in 2020. The webinar will begin at 1 PM ET and will be moderated by Donald Karcher, MD, FCAP, Chair of the CAP Council of Government and Professional Affairs. Dr. Karcher will be joined by W. Stephen Black-Schaffer MD, FCAP, Chair, of the CAP Economic Affairs Committee and; Diana Cardona, MD, FCAP, Chair of the CAP Economic Affairs Measures & Performance Assessment Subcommittee, who will discuss how these proposed Medicare program changes under the Quality Payment Program will affect pathologists in 2018.
Learn How the 2018 Final Medicare Physician Fee Schedule Affects Your Pay

Many CAP members watched live about how pathology reimbursement changes in the final 2018 Medicare Physician Fee Schedule would impact the practice of pathology. If you missed the webinar last week, the CAP has the recording on its website.
Donald S. Karcher, MD, FCAP, chair on the Council on Government and Professional Affairs, moderated the discussion with W. Stephen Black-Schaffer, MD, FCAP, chair of the Economic Affairs Committee, and Jonathan L. Myles, MD, FCAP, of the Board of Governors, during the 60-minute webinar. The speakers reviewed how the final fee schedule will affect services, including therapeutic apheresis, pathology consultations during surgery, and tumor immunohistochemistry in 2018.
Registration Now Open for the 2018 Policy Meeting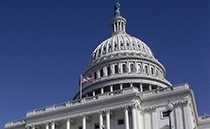 Registration is open for now the 2018 CAP Policy Meeting–Protecting the Practice of Pathology and Our Patients.
The annual CAP policy meeting, which is set for from April 30–May 2 at the Washington Marriott in Washington, DC, enables CAP members to connect with government leaders and policy experts to discuss the impact of federal regulation on their pathology practices.
New regulations are taking shape that will impact pathology reimbursements for years to come. Attendees at the CAP Policy Meeting will receive the latest information and analysis on the implementation of new Medicare and laboratory regulations. The CAP is actively engaged in the legislative and regulatory arenas on the critical issues facing pathology and laboratory medicine, including physician payment reform, reducing regulatory burdens, and improving health care quality.
The CAP Policy Meeting will also include meetings with members of Congress and their staff during the CAP's Annual Hill Day on May 2, which is the specialty's opportunity to focus on the federal issues most important to pathologists now and in the future.
The CAP Policy Meeting is a benefit of CAP Membership. There is no fee to register.
Register for the 2018 Policy Meeting.