Clinical Summary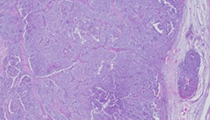 A 42-year-old man presents with a right testicular mass. Laboratory studies reveal normal serum AFP and HCG. Orchiectomy demonstrates a 5.0 cm homogeneous white-gray mass confined to the testicle, with minimal hemorrhage and necrosis.
Master List
Embryonal carcinoma
Malignant lymphoma
Seminoma
Sertoli cell tumor
Spermatocytic seminoma
Yolk sac tumor, solid pattern
View slide image with DigitalScope
Archive Case and Diagnosis
This case first appeared as Performance Improvement Program in Surgical Pathology (PIP) 2014, case 13 and is a seminoma.
Criteria for Diagnosis and Comments
Sections show testicular parenchyma replaced by a proliferation of moderate to large neoplastic cells with abundant clear cytoplasm and well-defined cell borders. Nuclei are generally round, with irregular borders, some chromatin clumping and prominent eosinophilic nucleoli. Mitotic activity is low. Tumor cells grow in solid sheets, with delicate vascularity associated with influx of small lymphocytes. In some sections, areas of coagulative necrosis affect the tumor. These features are indicative of a seminoma.

Seminoma represents 30–45% of germ cell tumors of the testis. Compared to non-seminomatous tumors, where the patient population is generally 5-10 years younger, seminomas affect males in their thirties and forties. Clinical presentation is usually a unilateral painless testicular mass; occasionally scrotal pain may be present. Seminomas are chemo- and radiosensitive, with excellent response.
Grossly, seminomas are well-circumscribed, with a homogenous solid texture, and are usually limited to the testis. Extension to the spermatic cord is rare. The cut surface is lobulated, tan or grey white with a fleshy or firm consistency. Necrosis and hemorrhage are uncommon; however, larger tumors can show areas of infarction.
Microscopically, seminoma shows a relatively monotonous population of evenly spaced, non-overlapping tumor cells containing abundant clear cytoplasm with well-defined cell borders. Tumor cells are arranged in solid sheets and nests or occasionally in an interstitial distribution. Lymphoplasmacytic and/or granulomatous inflammatory component are often present. Adjacent seminiferous tubules frequently demonstrate intratubular germ cell neoplasia (ITGCN), which is thought to be a form of "in situ" neoplasia from which seminoma and other germ cell tumors arise. Seminoma, like all germ cell tumors, can show changes of regression or involution, which can be characterized by sclerosis, granulation tissue, necrosis, hemosiderin deposits and variable degrees of chronic inflammation. Immunohistochemical studies show that seminoma cells usually react with antibodies against CD117, OCT3/4, SALL4 and CD30 (with rare positive cells) while are negative for other markers such as AFP, HCG, glypican-3, pancytokeratins and leukocyte common antigen (LCA).
Inflammation, sclerosis or regressive changes are features than can complicate the diagnosis of seminoma. Further, poor fixation or thick sections distorting the typical cytologic features can make it difficult to distinguish between seminoma and non-seminomatous components of germ cell tumors such as embryonal carcinoma (EC) or yolk sac tumor (YST). Both EC and YST often show hemorrhage or necrosis and microscopically can reveal architectural growth including glandular, microcystic and solid patterns. EC and YST tumor cells tend to be more pleomorphic with high grade nuclei showing overlapping and crowding, as opposed the monotonous, well-spaced population in seminoma. Correlation with serum AFP levels can also be helpful. Immunohistochemical studies can be useful, as YST are positive for cytokeratin, glypican-3 and AFP while negative for OCT3/4 and CD117, opposite that of seminoma. EC, like seminoma, will show reactivity with OCT3/4 and SALL4. EC will be strongly positive for cytokeratin and CD30 and negative for CD117, which is generally in contrast to the seminoma profile.
A predominantly interstitial growth pattern with an extensive lymphoid component can raise the possibility of a lymphoproliferative process. Lymphoma of the testis usually occurs within an older population and unlike seminoma, is negative for germ cell markers (such as SALL4, OCT3/4) and positive for markers specific for lymphoid derivation. Additionally, the presence of ITGCN would strongly support a germ cell tumor rather than a lymphoma.
Spermatocytic seminoma may enter into the differential diagnosis with seminoma due to some overlapping cytologic features, especially the abundant clear cytoplasm. However, spermatocytic seminoma is typically found in an older age population. This tumor also shows a more interstitial growth pattern, lacks the lymphoid infiltration of seminoma, and is not associated with ITGCN. Spermatocytic seminoma also shows a more polymorphous cytology characterized by three distinct cell types, and lacks immunoreactivity for germ cell markers.
Seminoma can rarely exhibit histologic features which overlap with Sertoli cell tumor, a tumor which can, like seminoma, occur in the 30–40 year old male population. However, the immunohistochemical profiles of the two tumors are unique, with Sertoli cell tumors being positive for inhibin, calretinin, melan-A (MART-1), pancytokeratin and HMB45 while negative for germ cell markers such as OCT3/4 and SALL4.
Supplementary Questions:
Seminomas are typically characterized by which of the following?


Elevated serum AFP
Endocrine abnormalities with hirsutism
Immunoreactivity to SF-1, calretinin, and CD30
Responsiveness to therapy and good prognosis
Small cells with elevated N:C, nuclear molding, smoky chromatin, and high mitotic activity

A testicular tumor in a 60-year-old man shows immunoreactivity with antibodies against keratin, inhibin and Melan-A (MART-1), while it is negative for SALL4, PLAP, and LCA. Which of the following is the likely diagnosis?


Malignant lymphoma
Metastatic melanoma
Seminoma
Sertoli cell tumor
Spermatocytic seminoma

Seminoma typically shows immunoreactivity for all of the following except?


Calretinin
CD117
OCT 3/4
SALL4
Vimentin
---
References
Amin M. Diagnostic Pathology Genitourinary. Salt Lake City, UT: Amirsys Publishing; 2010:4-34,4-69.
Bahrami A, Ro JY, Ayala A. An overview of testicular germ cell tumors. Arch Pathol Lab Med. 2007;131:1267-1280.
Berney DM. Update on testis tumors. Pathology. 2012;44(5):419-426.
Gopalan A, Dhall D, Olgac S, et al. Testicular mixed germ cell tumors: a morphologic and immunohistochemical study using stem cell markers, OCT3/4, SOX2, and GDF3, with emphasis on morphologically difficult to classify areas. Mod Path. 2009;22:1066-1074.
Groll RJ, Warde P, Jewett MAS. A comprehensive systemic review of testicular germ cell tumor surveillance. Crit Rev in Oncol Hemat. 2007;64:182-197.
Ulbright TM, Amin MB, Young RH. Tumors of the Testis, Adnexa, Spermatic Cord, and Scrotum: Atlas of Tumor Pathology. 3rd Series, Fascicle 25. Washington, DC: Armed Forces Institute of Pathology; 1999:59-102.
Young RH, Scully RE. Testicular Tumors. Chicago, IL: American Society of Clinical Pathologists Press. 1990:9-35.
Author
2014
Elena Chang, MD
Pathology Fellow
Cedars-Sinai Medical Center
Los Angeles, CA
Daniel J. Luthringer, MD
Surgical Pathology Committee
Cedars-Sinai Medical Center
Los Angeles, CA
Answer Key
Responsiveness to therapy and good prognosis (d).
Sertoli cell tumor (d).
Calretinin (a).